Hemp facility in the works for Bow Island
Posted on May 1, 2018 by 40 Mile Commentator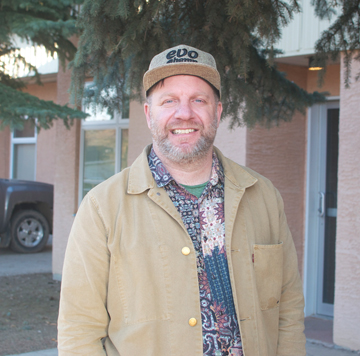 Terry Blumes is hoping to bring a hemp facility to Bow Island.
Justin Seward
Commentator/Courier
Terry Blumes of Rocky Mountain Extracts Corp discussed the progress he is making on a Hemp seed facility for the area with Bow Island town council during their public hearing on cannabis cultivation , production and packaging facilities in the airport industrial park on April 23.
He began the process of scouting out possible southern Alberta locations for a facility a year ago and led him to Bow Island.
"It's really important to have that bylaw and the municipal act is stationed for the rest of the process," said Blumes.
"Health Canada in their application process for anything related to cannabis requires that you have an active station from the municipality. I've been to other municipalities trying to get this business set-up and wasn't able to because the municipality wasn't ready to move ahead with updating the bylaws. When you get a bunch of people sitting around talking about cannabis, they start to worry."
The mayor and other staff were on board for a hemp seed facility, he said."Everyone in the town office was really excited about this agricultural opportunity," he said.
"They weren't concerned like in some of the other municipalities that I've visited. They're going out of their way to attract business here. In this business, where it's moving so fast and it's super competitive and everybody is trying to get up to scale real quickly. If you are dealing with one part of the regulatory process dragging you, then that's not the right place to be."
His focus will be to get the hemp seed and food processing facility built because there is a lot of hemp grown in southern Alberta, and until there is a processing plant set up in Leduc, there is not a processing facility in Alberta at all, according to Blumes.
The crop is grown and shipped to Manitoba for processing.
"There's not any other agricultural crop I can think of where there's no regional processor for something that is cultivated and so important to farmers," he said.
"When you look at the cost of transportation and the fact these farmers get contracted last, it made perfect sense to me to start there and in doing that set up the contacts and relationships that the company will need for the biomass when we're licensed and ready to process cannabinoids from hemp."
There will be equipment installed for the volume of cannabinoids mass in southern Alberta.
The hemp being grown locally has local content, however when the regulations change he expects different genetics for cultivators to pop up and maintain the 0.3 per cent THC (Tetrahydrocannabinols) and a higher CBD (cannabidiol) content.
The process is at a getting a land title before advancing to the next stage.
Bow Island Mayor Gordon Reynolds said a hemp facility will be a development on a piece of the town's industrial land, which will include taxation and jobs.
"In the area it provides an alternative to growing the food grain hemp that is currently a pretty congested market right now," said Reynolds.
He added there is no timeline as to when a facility could start construction as it still in the works.