Margaret Wooding School holds annual Wellness Day
Posted on May 1, 2018 by 40 Mile Commentator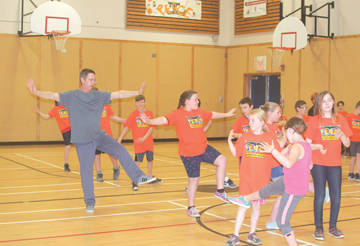 Justin Seward
Commentator/ Courier
Grade 4 to 6 students at Margaret Wooding School had the opportunity to learn the importance of wellness through a variety of activities on April 27.
The sixth annual Wellness Day had allowed students to learn how to develop proper nutrition habits, mental wellness for students and adults to help them become more healthy individuals.
"It establishes a foundation for the individuals at a younger age so they can make the proper choices as an individual," said Jason Miller, leader for the school's wellness program.
"… And if they have the strategies and techniques or different things they can supplement in their lives to allow them to make healthy choices, that allows them to make those decisions properly and correctly with the data that would support it. If they don't, chances are they will make poorer choices that will affect their health and longevity in the future."
The school has a large focus on wellness throughout the year and staff reinforce my staff everyday in the classroom.
"They're talking about with their class on a daily basis," he said
Tai chi, dragon breathing, gongs and sports nutrition were a few of the activities that students participated in and there is a difference in some of the students' performance in the classroom.
"Sometimes we as a staff see that there is less trips to the office because they are more mindful of how other people feel and how they are treated," said Miller.
"There's that we can identify with. That shows the success we're having here as program. It also shows that when the kids are talking to their parents, friends or kids in other school systems, they're saying that 'At Margaret Wooding School we offer this type of program and it helps us and it will probably help you too.'"
Additionally, students are also bringing healthier snack choices to school.