Property Crime up in first quarter of 2018:RCMP
Posted on May 1, 2018 by 40 Mile Commentator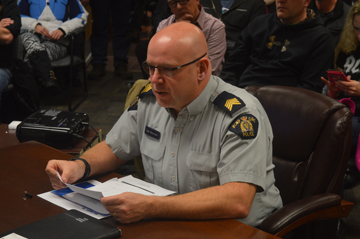 Commentator/Courier file photo Redcliff RCMP Staff Sgt. Sean Maxwell says the UCP's plan to address rural crime is a positive step forward.
By Jeremy Appel
Commentator/Courier
Redcliff's property crime increased drastically in the first three months of 2018, according to a presentation RCMP S-Sgt. Sean Maxwell made to town council at its April 23 meeting.
Property crime more than doubled between the final quarter of 2017 and first quarter of 2018, going from 32 incidents to 74.
In the same timespan, persons crime increased slightly to 15 incidents from 14.
Maxwell said the detachment is working to decrease these numbers through increased vigilance and enhanced community engagement.
"What I'm anticipated over this next quarter is that these numbers will go significantly down, because of some of the inroads that we've made," said Maxwell.
"What you end up having is probably less than five per cent of the bad guys we arrest commit 95 per cent of our problems."
Break-and-enters showed a massive jump to 23 reported incidents so far in 2018 from two in October-December 2017, while fraud tripled to 12 from four.
In the same period, motor vehicle theft quadrupled to eight from two incidents.
Council voted unanimously to accept the report as information.
Cannabis bylaw passes first reading
Council also approved the first reading of changes to the town's Land-use Bylaw to allow for the sale and production of recreational cannabis.
The amendments allow cannabis stores to be zoned for light industrial, general commercial, highway commercial and downtown commercial areas, provided they're at least 100 m from daycares, parks, schools and recreation facilities.
Use and development permits for the retail locations will expire and require re-application every five years.
A public hearing is scheduled for May 14 to solicit public input on the bylaw amendments prior to their second and third readings.
Further amendments that deal specifically with marijuana consumption will also be presented at future meetings.