Doing a 'Good' thing in the community
Posted on May 8, 2018 by 40 Mile Commentator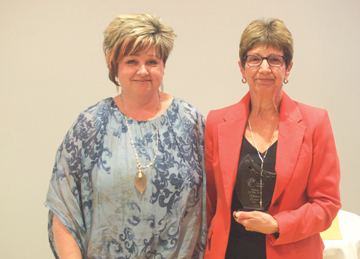 Photo by Justin Seward Commentator/Courier Diane Good receiving the Citizen of the Year award from Cypress Courier sales consultant Noella Krauss.
Diane Good had to wait to the very end of Cypress County's Citizen of the Year and staff appreciation banquet to hear her name called at the Beveridge building in Medicine Hat on May 4.
However, it was well worth the wait to see county representatives get recognized before Cypress Courier sales consultant Noella Krauss walked up to the podium and announced her name as the Citizen of the Year.
"Kind of overwhelming," said Good.
She grew up in the Irvine district, while her family ranched and farmed near Longfellow for many years and to this day her family still owns land in the county.
Despite settling in Medicine Hat, she logs a lot of driving time out to Irvine, Walsh and Longfellow volunteering on the Longfellow Community Association for many years and now sits as a treasurer. Additionally, she is a secretary on the Irvine Ag Society and holds the duel role as a secretary/treasurer for the Bullshead Water Co-op since the early 2000s.
Curling is sport she still actively participates in at the Irvine Curling Club and is a treasurer there too.
"I think it's important to keep the communities going," she said.
"(And) just to see the success of which ever project is going on. We all appreciate the water from the water co-op. We all appreciate the Irvine Complex."
She added the rural community means everything to her with the same friends and the family connections.