British forces participate in 'Operation Prairie Storm' at CFB Suffield
Posted on May 22, 2018 by 40 Mile Commentator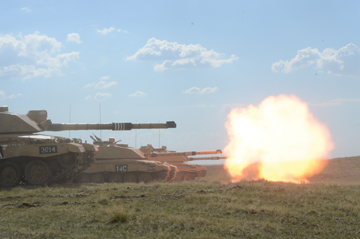 Commentator/Courier File Photo
By Jeremy Appel
Commentator/Courier
British military forces stationed in CFB Suffield, the largest military training range in the Commonwealth, conducted a live fire exercise, dubbed "Operation Prairie Storm," on May 16.
"A lot of the training we do in the U.K. comes together here and this is where we hope to bring together all the different parts of this battle group," explained Lt.-Col. Angus Tilney, commander of the King's Royal Hussars.
"Canada gives us this space in the Prairies that we don't have in the U.K."
Tanks, infantry, artillery and engineers were all part of the massive 32-day exercise, which Major Alex Mills says is meant to prepare participants for future deployments overseas.
"We take them away from their creature comforts," Mills said. "They won't have mobile phones on the prairie. They're limited in what they can do (with) regards to their personal life."
Col. Marcus Evans, British Army Training Unit Suffield commander, says almost 2,000 troops are participating in the training exercise, which is meant to prepare them for battle in a variety of terrains.
"They're exercising to prepare them to go onto NATO's frontline, so they're preparing for war," said Evans.
"The bottom line is that we have a lead armour battle group here, which is being prepared for future operations.
"Those operations could be high-intensity combat. They're most likely to deploy to Estonia.
"Estonia is wooded and flat, but the manoeuvre they do here and practicing combined arms, and bringing that concert of arms together is really the same.
"They need to have the same aggressive soldiering styles and techniques that they use anywhere."
He said northern Estonia has quite a different terrain from the badlands in Suffield, but Ukraine and northern Syria — two other NATO hotspots — are surprisingly similar to the Prairie terrain.
"The British army isn't so much training for the fight, but for any fight," said Evans.
Lt.-Col. Simon Smith, who originally hails from the Isle of Wight, agrees that the prairie climate is ideal to help forces train for numerous terrains, which they're unable to do to the same extent back home.
"The extremes you experience on this training area — extreme heat, extreme dust, just a couple days ago it was extremely cold, and I'm sure we'll be in for some rain here… That is very similar to what I've experienced in Iraq, Afghanistan and Kosovo," said Smith.
Prairie Storm is the first major exercise of 2018. There will be three more before the winter.
Fire and relations with locals
Fire is a major concern for BATUS. Just last year, CFB Suffield accepted responsibility for a grass fire that killed some cattle at a nearby ranch.
"Prairie grass can catch fire quite easily," Evans said. "We do use ammunition types that will set fire to the grass. If there's too many fires, we will reduce the number of ammunition types that will set fire to it.
"But all of us are trained to put out fires … We'll put out a fire as soon as we see it."
"By the nature of what we do here, inevitably there will be, especially during the summer exercise season, risk of fire," Mills said, adding that the troops take a two-day fire training course.
That afternoon, firefighting forces put out a minor grass fire that was started from tank fire.
Evans said that despite last year's fire, BATUS has a good relationship with nearby ranchers and the Village of Ralston located next door.
"We are guests in the prairie here," said Mills. "The (BATUS) has been here since 1972 and we want to continue that relationship with the local community.
"We take every single measure to prevent those fires from spreading."
The future of BATUS
BATUS will be in existence until at least 2022.
Evans said some American brigades are looking to train in Suffield as soon as 2021.
However, the long-term future of BATUS is up in the air.
"The British army is reviewing what it needs to do in terms of training its troops," he said.
"We're looking to achieve defence engagement around the world and to train in different environments, so we're always looking at training in Europe, training in the Middle East and we're looking at training in North America, in both Canada and the U.S."
Poland, Estonia and Germany, as well as Amman, Jordan, and California are distinct possibilities for future training.
It's also possible that they stay in Suffield.
"By the end of the year, we'll probably have an announcement about what takes us beyond 2022," said Evans.