Grade 9 Foremost science whiz succeeds at nationals
Posted on May 29, 2018 by 40 Mile Commentator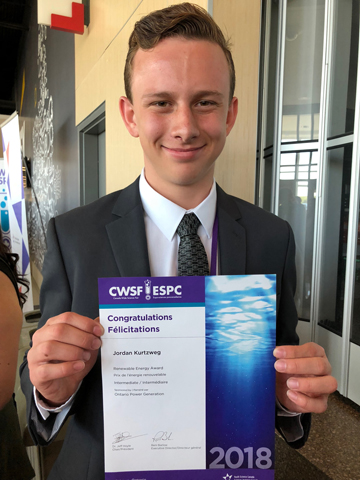 By Jeremy Appel
Commentator/Courier
After winning his Grade 9 science fair project on different types wind power, Jordan Kurtzweg made his way to the Canada-Wide Science Fair at Ottawa's Carleton University, where he won the Renewable Energy Award.
In between the Foremost and Ottawa fairs, he participated in Medicine Hat's regional competition.
Kurtzweg modified his project a bit for the regional and national competitions.
"Instead of doing the different blade designs, I decided to go with changing the blade angles … to see which blade angle would produce the most electricity," said Kurtzweg.
He said this change gave him more control over the experiment's variables, which lead to "more reliable data."
"When I'm comparing different designs of wind turbine blades, they don't have the same surface area, so it's not a fair test, whereas if you have the same blades, you're just changing the blade angles to find which angle's most efficient," Kurtzweg said.
Through this approach, he discovered that a 30-degree blade angle is most efficient at producing electricity.
Kurtzweg said this result surprised him.
"I thought that a 50-degree angle would," he said. "When the wind comes at the turbine, it's going to hit it and be deflected off.
"Because of Newton's third law of motion — for every action there's an equal and opposite reaction — so the wind's coming at the blade and deflected upwards, which causes an opposite reaction of the blade turning in the opposite direction.
"So I thought that a little farther than 45 degrees would deflect the wind the best … so that would be the best angle."
Kurtzweg called his national achievement "really amazing" and unexpected.
"Most people in general don't win an award at all," he said. "There's very few awards. It's really quite an honour to win something."
He had never been to the nation's capital, so Kurtzweg also enjoyed the tourism aspect of the trip, particularly parliament, which he described as his favourite part based on the building's history.
"It was just a great experience and quite fun and I would recommend it for anyone," said Kurtzweg.