Heavy horses complete chores in obstacle course
Posted on June 5, 2018 by 40 Mile Commentator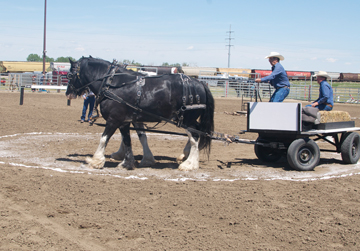 Commentator/Courier photo by Justin Seward Glen Bishoff and his horses Joe and Wally making their way around the ring.
By Justin Seward
Commentator/Courier
Nine different teamsters from across Alberta and Saskatchewan participated in the first annual Dunmore Equestrian Centre Short Track Chore Competition on June 3.
Two heavy horses were driven by their owners through a tightly spaced obstacle course that is timed and if a hoof goes outside the white line, the team is disqualified. Each obstacle represents a challenge a ranch would face from day-to-day.
"It simulates all things that happened in the past in normal chore competitions before the days of the tractor," said Blair Reid, president of the Dunmore Equestrian Society.
"We're bringing back a lot of history here. It's phenomenal. These teamsters that are bringing in these horses have won Agribitions, they've won the Bar-U. Every top teamster event in western Canada are here. We have great competitors."
Reid said the obstacles are like the "old cream can situation at the old CPR station," "Where you back up to old the CPR station and unload your cream cans."
Other obstacles included hooking the horse up the wagon in tight ring, going through a small pathway and weaving through buckets with a wooden beam strapped to the back, while the drivers are steering.
He tipped his hat to local chore competitor, Glen Bishoff, for approaching the equestrian centre to host this event.
"I said this is exactly what we would love to do because there are so many seniors out of Saskatchewan (who) retired to Medicine Hat," said Reid.
"They were raised with this whether they were children or what stage."
Bishoff who lives on small acreage five miles north on Highway 41, just off the Trans-Canada Highway, participated on the short team chore competition for the second time on Sunday with his horses Wally and Joe."I'm not as experienced as a lot of the guys here," he said.
"I took an interest in it and really I pushed to get it going here and I'm glad I did. Great competitors and good crowd. I just can't believe the support. I can't believe people even noticed me, old farm boy, and all of sudden they're treating me very good."
The event is only four years old and there are always adjustments that are being made in different places, he added.