Foremost Regional Water Treatment Plant officially opens
Posted on June 27, 2018 by 40 Mile Commentator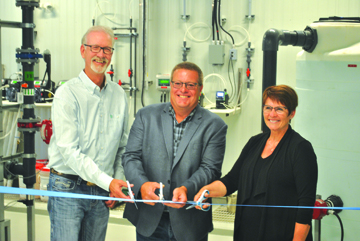 Commentator/Courier photos by Jeremy Appel Foremost Mayor Ken Kultgen, County of Forty Mile Reeve Steve Wikkerink and VaLinda Ivanics, assistant to Cypress-Medicine Hat MLA Drew Barnes, cut the ribbon at the June 22 grand opening for the Foremost Regional Water Treatment Plant.
By Jeremy Appel
Commentator/Courier
The Village of Foremost held the grand opening of its brand new Regional Water Treatment Plant on June 22, with dignitaries, samples of its drinkable water and a water tap-shaped cake.
Foremost Mayor Ken Kultgen says the plant is very beneficial towards the village and county as a whole.
"This is securing water for the village residents and the rest of the county for a lot of years," he said.
Residents will now be able to drink their water straight from the tap.
"The money that you save from not having to go buy bottled water, you can use that to help pay the increase in your tax," Kultgen joked.
VaLinda Ivanics, who was at the opening on behalf of Cypress-Medicine Hat MLA Drew Barnes, praised the plant as a valuable long-term investment.
"I commend you all for your foresight in securing a safe and reliable water source for future generations," said Ivanics.
The project dates back to 2012, when the province sent the village and county letters calling on them to remove fluoride from their water.
"The communities decided that the most cost-effective benefit to our ratepayers would be a regional system," said Stuart Payne, the county official in charge of water.
Payne added that the plant was largely funded by Alberta Environment and Parks' Water for Life program, which saved "considerable money."
County of Forty Mile Reeve Steve Wikkerink said the "very impressive" facility is well worth its cost.
"It's a huge investment, but I think this is a great thing for the community of Foremost and, of course, all our other communities in the county," said Wikkerink.
"This is a great thing for families in southern Alberta."
By the end of this year, the plant is slated to carry potable water to Manyberries through a 65-km pipeline that also passes through Etzikom and Orion.
The hope is for the pipeline to eventually expand to Skiff.