Senator Gershaw School building greenhouse
Posted on June 27, 2018 by 40 Mile Commentator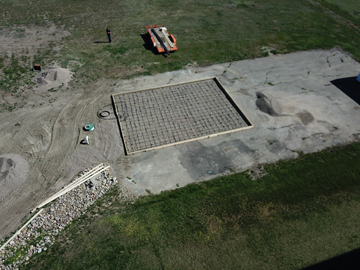 By Jeremy Appel
Commentator/Courier
Senator Gershaw students will soon have a greenhouse to help put their studies into practice.
Cory Schiebelbein, a social studies, outdoor ed, and construction and fabrication teacher who spearheaded the initiative, says the greenhouse is part of a larger project to naturalize the school.
"When I started to think of what I could do around the school, there weren't any really nice outdoor spaces, so I asked about naturalizing our school ground," he said.
In addition to planting trees and establishing two outdoor classroom, Schiebelbein decided to help build a greenhouse, an idea which had been kicking around for a few years.
"We can grow our own plants and use (them) for science classes, and still get in there with the outdoor ed class and plant stuff in the winter," he explained.
"It just grew from wanting something to do with the environment … to have a space (for) kids to get their hands in the dirt."
The school is also working on a water reclamation project to help with the greenhouse.
"We're collecting rainwater off of our school and school grounds into a cistern that will actually feed our greenhouse," said Schiebelbein.
"Along with that, we're trying to make that water last, so we're looking at hydroponics, aquaponics and things that can be grown with that."
Vegetables and herbs will likely be the main priority at the greenhouse, he said.
"We're hoping to actually grow our own produce here … as well as doing some fundraising," Schiebelbein said.
"Maybe we'll … do that kind of stuff when students can simply come into class, plant flowers and grow them, and give them to their moms on Mother's Day."
The greenhouse will also be available to science and home economics students.
Construction began last week with the pouring of concrete to create its base.