Crowning moment: Haley Schlenker named as 2018 Stampede queen
Posted on July 17, 2018 by 40 Mile Commentator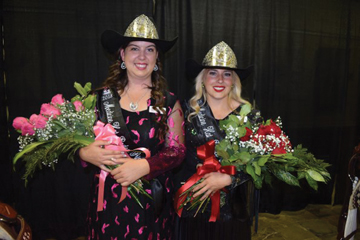 Southern Alberta Newspapers Group Photo by Peggy Revell. Abby Perrett was named 2018 Stampede princess, while Hayley Schlenker was crowned queen on July 14 at the Medicine Hat Exhibition and Stampede kick-off dance and queen crowning.
By: Peggy Revell
Southern Alberta Newspapers
If at first you don't succeed, try again.
This life lesson especially holds true as Haley Schlenker was named the 2018 Medicine Hat Exhibition & Stampede queen Saturday evening, while Abby Perrett was named as princess.
"It's like it was written in the stars for both of us," said Schlenker, explaining that the pair competed for the crown in 2017, and took the feedback they received then to heart.
"We worked real hard, took what we needed to improve upon and worked on that," she said.
The role of queen and princess is one that many young girls look up to with awe.
"It's amazing," said Schlenker, who herself was once that girl. "I know I want to be a positive role model."
"I was that girl, looking up and wishing I could be that person," said Perrett.
An admittedly shy person, Perrett said part of her growth has been overcoming this – and she hopes she can encourage other girls to do the same.
The two were the only participants in this year's competition, and they said their goal is now to encourage more young woman to step forward so 2019 will have a full slate of candidates.
The competition itself was a week filled with non-stop appearances and evaluations.
Schlenker's favourite part of the competition was the public speaking competition. She spoke about farming, and the new generation taking over family farms.
"I really look forward to taking on the farm with my siblings," she said, as she's the fourth generation for the family farm west of Medicine Hat.
One of Perrett's favourite part of the competition was the fashion show – with Schlenker saying she was amazed at Perrett's confidence and skill while walking the runway.
Both are looking forward to the year ahead of them.
"It's going to be fun to go in that arena and be the queen," said Schlenker who has been a part of the grand entry team for many years.
Her favourite part of the MHES is the rodeo, she said, as it has a smalltown feel.
"Anyone can come on down and have a good time."
"Medicine Hat is so open and warm, they welcome you with open arms," said Perrett, who raised on a farm near Raymond.
Perrett said she is looking forward to spending the year ahead with Schlenker and being a part of the team.
Being Stampede royalty requires hard work and dedication.
"I think we're both going to overcome the challenges together," said Perrett. "And that's going to make us stronger."
"We have each other's back," added Schlenker.
Both also extended thanks to the royalty committee who made the program possible.