Fire ban issued in Cypress County
Posted on August 14, 2018 by 40 Mile Commentator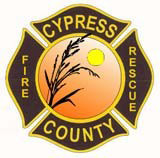 Cypress County fire chief Kelly Meyer declared a fire ban as of 3 p.m. Friday.
The time was specifically slotted so workers could get their equipment out of the fields and manage their fuel loads before the ban took effect.
"Please be cautious," said Meyer. "It's extremely dry out there. Always have fire protection with you when your working outside.
"All recreational fires are banned."
People can still use household items such as propane barbecues and smokers.
Any person who sets an open fire, or any blaze not permitted under this order, may be charged under the Forest and Prairie Protection Act and Cypress County Bylaw 2008/14. If the person is the owner or occupant of the land on which the fire is set, those costs may be recovered by placing the costs on the tax roll and recovering them in the same manner as taxes.