Firefighter training at the forefront during late July call
Posted on August 14, 2018 by 40 Mile Commentator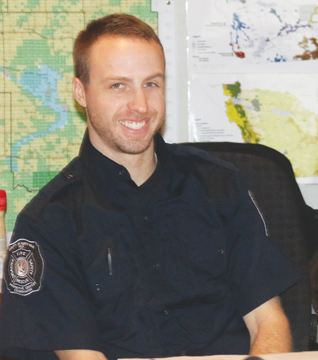 File Photo by Jamie Regier County of Forty Mile fire chief Dustin McGarry has had a busy few weeks fighting multiple grassfires with the volunteer firefighters. McGarry said more than 500 volunteers hours had been accumulated in July.
County of Forty Mile fire chief Dustin McGarry highlighted in his report that in July there were 16 calls during the month which was half of the calls out for duty from a year ago at County of Forty Mile's council meeting on Aug. 8.
One call sent out Burdett and Bow Island firefighters to a motor vehicle collision on July 23, which provided an invaluable learning experience for the crew.
"Thanks to recent training in heavy extrication, the members were able to safely work under and in and around the vehicle and get the patient out," said McGarry.
"If it wasn't for our qualified firefighters arriving at the scene, and improve their skills, this call may have gone differently."
"Training is critical for firefighters … and responding to the call really helps with making the outcome positive."
HALO, Alberta Health Services and the RCMP also helped on the scene,which made for the best possible extrication.
"These guys do train hard and they put in a lot of volunteer time," he said.
"They give away their weekends to take these specialized training courses so in the chance that one of these accidents happen, they are prepared."
Meanwhile a fire ban was put into effect in the county on Aug. 10 until further notice.
Incinerators, burning barrels, turkey fryers, solid fuel barbeques and fireworks are not allowed, while fire permits will not be issued
More information can be found by contraction the county at (403) 867-3530.