Riders for HALO raise more than $120K with annual Fuel Booster Poker Run
Posted on August 14, 2018 by 40 Mile Commentator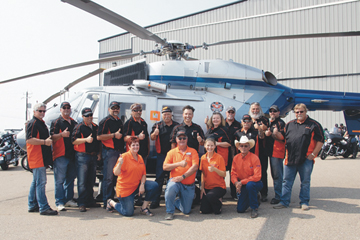 PHOTO CREDIT Helene Gifford The Riders for HALO handed a cheque for more than $120,000 to HALO Sunday afternoon at HALOÕs hangar at the airport. Riders for HALO president Blair Carriere says the group feels very strongly about the cause, which is why its annual events raise so much money every year.
Mo Cranker
Southern Alberta Newspapers
The Riders for HALO have had quite the year in 2018.
The group held its fifth annual Booster Poker Run and raised more than $100,000 for HALO.
"This year's Fuel Booster Poker Run raised $120,360," said group president Blair Carriere. "It's been a really great year for us and we're excited to hand the money over the HALO on Sunday."
While the group is happy to give such a large amount of money over the HALO, it took a few years to get where the Riders for HALO are at.
"In our first year we raised $810 and we were happy to raise that much," said Carriere. "The next year we raised around $6,000 and the year after that it was over $16,000 raised.
"We've seen a real increase in the support every year and that means we get to give more and more money to a great cause every year."
Carriere says the event serves many purposes for HALO.
"Obviously HALO needs money and that's a huge part of the event, but we're also trying to raise awareness for them," he said. "It costs $1 million to keep a helicopter in the sky and we know that basically everything we're giving them is going to that helicopter and keeping it out there.
"This is a group that is very near and dear to our hearts as riders because we all know someone who has been in an accident and has needed the help from HALO – it's a very important cause for a lot of people in the area."
Next year's Fuel Booster Poker Run is slated for June 20. More information can be found by searching for the Riders for Halo on Facebook.