Cypress County hires new CAO
Posted on September 19, 2018 by 40 Mile Commentator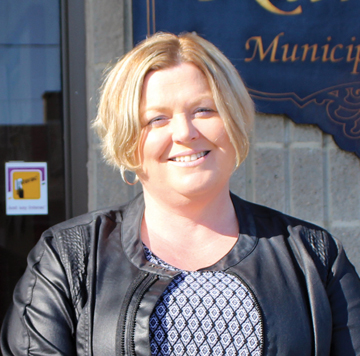 Commentator/Courier File Photo Cypress County CAO Tarolyn Aaserud.
By Scott Schmidt
Southern Alberta Newspapers
Cypress County has hired its new chief administrative officer.
The announcement came in the middle of last week, after a months long search following the spring departure of Doug Henderson, that Tarolyn Aaserud will assume the role on Nov. 13.
"We are fortunate, along with the assistance of DCG Executive Search Services Ltd., to have attracted strong candidates" Deputy Reeve Dan Hamilton said in a county press release.
Aaserud comes to the county with more than 20 years experience in municipal operations, having served in the CAO role for nearly 15 of those. Most recently she had a short stop in Nanton before taking on the role with Cypress County, but she had been the CAO for Paintearth County in east-central Alberta since 2009.
Prior to that, Aaserud held a senior management position with Saddle Hills County in northern Alberta, worked for the Town of Killam and had begun her career in 1987 as an agriculture director with the County of Grande Prairie.
The role in Cypress County needed the right level of experience to handle the tasks at hand, but council's biggest priority for hiring was finding someone who meshed well with what was already occurring.
"Our biggest thing that we looked at, and that was all of council, was a team leader," Reeve Richard Oster told the Cypress Courier. "Somebody that would work with the staff and keep them together working as the well functioning team they are now.
"(We wanted our new CAO) to continue to provide that leadership as they come across challenges. The biggest thing was to keep the team functioning as they are now, because we are pretty impressed with our staff."
Oster says roughly 50 applicants sought the position or showed interest, while an independent source hired to do so was able to whittle that down to nine.
"From there, the (interim) CAO, the reeve and the deputy reeve, we sat down and we worked with our search company and brought that down to four," he said. "Council then interviewed those four people, so everyone was involved. And, my goodness, these were top candidates; this was such a tough challenge to figure out what to do."
As difficult as the decision was, all nine councillors eventually agreed unanimously to choose Aaserud.
"Tarolyn was the shining star when she told us how she worked with staff," Oster said. "That's what singled her out and that's what we were looking for.
"We didn't want a micro manager, we didn't want to see any huge changes. Of course, she'll be in charge, and she'll have ideas of her own, but I think once she sees how great the staff is, it'll be a pretty easy transition to work with them."
A press release states the county saw several standout career accomplishments, including economic growth wherever she's been.
"Coupled with extensive experience, educational credentials and administrative knowledge as they pertain directly to local government, Ms. Aaserud is wanting to move closer to her family who have resided in the Cypress County area for years," the release states. "Council feels that Ms. Aaserud will be a strong asset to administration, the County, and the region."
Peter Tarnawsky had been serving since the spring as interim CAO, and the county wishes to thank him for services and hard work over the course of the search.