Enforcement options are being explored for county ditches
Posted on September 25, 2018 by 40 Mile Commentator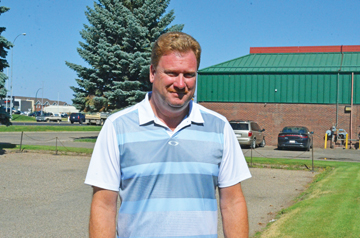 Southern Alberta Newspapers file photo MORE MOVEMENT NEEDED: Cypress County Reeve Dan Hamilton has requested a copy of the HEMS review after getting very little response from Health MInister Tyler Shandro.
By Justin Seward
Commentator/Courier
Cypress County council discussed a bylaw amendment to address rocks in county ditches at its September 18 meeting.
The bylaw addresses more than vegetation, or debris on hamlet boulevards, ditches and laneways/alleys. The focus is more on maintenance practices and future construction goals as "Promoting Hamlets," continues to grow.
"We heard earlier today that there is possibly 60 per cent of ditches in Dunmore would have rock in them already," said the county's Deputy Reeve Dan Hamilton.
"We've got to watch what we do here or we're going to be making 60 per cent of the people pissed off that they got to take all this rock out.
"If we have this percentage here already, it's got to be OK. What we need to do is find a way to make this so that if those people don't spray those rocks with round up and keep the weeds down then we're going to have to go ahead and do it and charge them back for it. Make them accountable for what's in front of their house."
Hamilton added out of the 60 per cent there are a couple of ditches that look bad and make it bad for everyone else and the county needs to do a little more research before shutting down the rocks in ditches altogether.
Coun. Ernest Mudie said he is "reasonably OK" with the rocks and that whatever the decision may be that the process should be permanent.
However, where Mudie's concern came from is if the county had to access the ditches for utilities then who would be responsible for the maintenance.
"On the landscaping point, in the City of Medicine Hat, if there is a frontage (in front) of your driveway and a three point space between your fence and the city sidewalk, if you put rock or anything in it, technically it's city property," said Coun. Robin Kurpjuweit to a comparison of nearby communities.
"You're on the hook to maintain it. If they need to gain access for utilities, it's on you to replace it. Rock is relatively easy, as it gets filled up with silt, pull it out and put it back down."
It's a matter of enforcement through complaints coming in about weeds getting out of control and for staff to come back with rules, he added.
Council approved the motion to direct administration to bring back Bylaw 2018/32 Hamlet Public Roadway with amendments to allow property owners to place rocks in ditches adjacent to their property within hamlet boundaries including details on fines and enforcement.