Bow Island takes restrictive approach to cannabis bylaw
Posted on October 23, 2018 by 40 Mile Commentator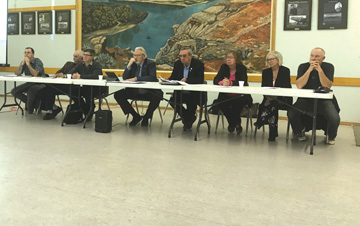 Commentator/Courier Photo by Justin Seward Bow Island town council held a public hearing for the Cannabis Bylaw on Oct. 16 at the legion.
By Justin Seward
Commentator/Courier
Bow Island town council held a public hearing for their Cannabis Bylaw at the legion on Oct. 16 and a bylaw that the municipality took a restrictive approach to.
The bylaw states that "the Province of Alberta has enacted an act to control and regulate cannabis, S.A. 2017, c. 21 which will place restrictions on the smoking or vaping of cannabis in public places;
"Pursuant to Section 7 of the Municipal Government Act R.S.A 2000, c. M-26, council may pass bylaws respecting: (a) the safety, health and welfare of people and the protections of people and property, (b) people activities and things in or near a public place or place that is open to the public; (c) the enforcement of bylaws made under the Municipal Government Act or any other enactment."
"Council deems it necessary to impose additional restrictions on the smoking or vaping of cannabis in public places to prevent behaviors and conduct that may have a negative impact on the enjoyment of public places.
"Council considers it expedient and desirable for the health, safety and welfare of the inhabitants to regulate smoking and vaping of cannabis in the Town of Bow Island."
"We looked at other bylaws, largely the City of Calgary bylaw," said Bow Island Mayor Gordon Reynolds.
"A lot of it seemed to make sense. They spent a lot of time in their bylaw talking about where you could, where you couldn't (smoke). We just want to simplify it because as you see, it's only four pages. As I told the crowd tonight, we wanted to start fairly restrictive and see how things go.
"It's easier to relax things if that's what the community wants or needs then it is to tighten it up later. Obviously we're not going to be ready for tomorrow. But we felt we had to do something to get started."
Reynolds was pleased with the turnout considering there have been other municipalities where no one has shown up.
"People were curious and did have things to say and we'll take some of those things into account when we debate it on Monday night," he said.
"I don't think there will be a lot of changes. We'll just see after everybody digests what they heard tonight and reads the bylaw again. But hopefully we are able to adopt it with or without amendments."
The prohibition include a person not smoking or vape cannabis in, or on, any municipal lands, facilities, roadways, walkways whether in a vehicle or not. Smoking or vaping will be permitted in private dwellings or on private property only and at the permission of the landlords or innkeepers of rentals. Employers can not permit a person to smoke cannabis on a premises controlled or owned by them where it is prohibited by the bylaw.
Penalties for smoking and vaping in a public place and vaping where it is prohibited will cost an individual $200 per offense.
"I think the town has approached this the correct way," said resident Gordon McCormick.
"Make it tougher to begin with and ease off if need be. Personally, I'm against it but that's my own opinion. I just don't believe in non-medicated drugs being used recreationally."
"I will have trouble with this. I will learn to live with it. If it's a law, I will support it. If Canada says we can have it, fine and dandy."
Karen Waldbauer is the CAO of Pleasant View Lodge said she would not want to try and police it in the rental homes they have at the lodge because the process would be really difficult.
"For outside, I agree, its got a strong smell and it's intoxicating," she said.
"I think the town did a really good job. They did their homework and did a lot of research."
However, she felt ignorant because she did not know their was THC in medical marijuana and realizes she will have to search it out more.
The town has not addressed the retail side of cannabis as of yet but Reynolds would like to see more public input before council makes any steps forward.
"It's not a super easy process to get a retail license from the province, but of course they do have to have the OK from the municipality. That's apart of the process," said Reynolds.
"Nobody has approached us yet. As of right now, you're not allowed to sell cannabis in Bow Island at a retail store."
If there were no amendments at the Oct. 22 council meeting, then second and third reading would have to be passed.