Family played a role in Cypress County's new CAO taking the position
Posted on December 11, 2018 by 40 Mile Commentator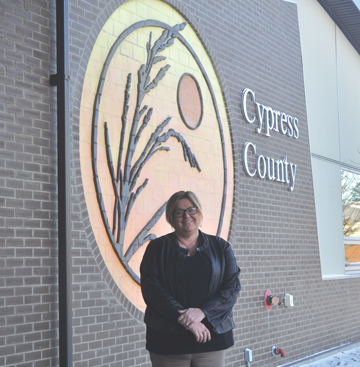 hen Cypress County's new Chief Administrative Officer (CAO) Tarolyn Aaserud saw the job open up, she did not hesitate to throw her name in the hat, as it meant a chance to move closer to family.
Aaserud has routes in the county having family in the Irvine area, while her children attended Medicine Hat College.
She started on Nov. 13 and enjoying every minute of it.
"Awesome," she said.
"I have a great group of people. The staff here is exceptional and council has been awesome."
Her municipal government tenure began in 1997 where she began working for the County of Grande Prairie as the director of agriculture for seven years. She moved on to the Town of Killam as CAO including where she was involved in the planning of public works, recreation and a period she described as "multifaceted" and an "excellent experience."
She then headed back north to Saddle Hills County for three years as CAO, before moving closer to her hometown of Hanna to Paintearth County for nine years.
Nanton was the next stop back in May before being hired to Cypress County.
"I thought if I don't try for this opportunity now, it may never be open again," said Aaserud.
"I've worked with the County of Paintearth, a rural municipality, (a) very similar county, oil, gas and agriculture. Life brings us a lot of interesting situations and learning from those situations. They appear again and you just implement the strategies you used.
"I love working with people. I love providing services to the rate payer in an efficient, effective manner and I really enjoy people."
"I love municipal government. Cypress County is an awesome organization and decided to come over."
Cypress County has many building blocks in place and she wants to continue to build on making the county a strong, sustainable municipality.
"We have an Intermunicipal Collaborative Framework. Cypress County has worked with their neighbours and to make a strong region for many years," she said.
"But continuing the process and implementing program and services that benefit the region."
With a county of this size, the transportation network will be important as well as the upkeeping of the roads, she added.