Santa Claus is coming to town-NORAD Tracks Santa
Posted on December 19, 2018 by 40 Mile Commentator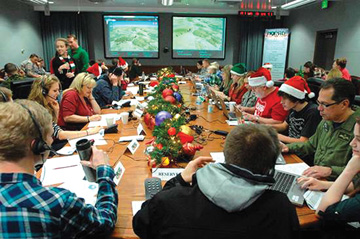 Submitted photo NORAD volunteers tracking Santa all over the world.
By Stan Ashbee
Alberta Newspapers Group
Santa Claus is coming to town Dec. 24, as NORAD Tracks Santa's whereabouts throughout Christmas Eve. 2018 marks the program's 63rd year tracking the jolly old elf.
"Over 63 years the program has changed quite a bit," said Capt. Cameron Hillier from the Public Affairs Office of NORAD and USNORTHCOM, in Colorado Springs.
"But, from this year to last, the biggest change is the norad.org website," he noted, adding the website has been made more mobile-friendly, with a more pleasing and easy to follow layout.
Leading up to Dec. 24, he explained, NORAD Tracks Santa's website and social media platforms pump out festive information about the annual program. The website also features a games Advent calendar for young and old.
"Essentially, over the 23 days leading up to Dec. 24, there's a new game released every day," Hillier said.
Information posted on the website includes a summary of NORAD's regular day-to-day mission and its tech capabilities to track Santa on Christmas Eve. "Going into Dec. 24, it's a multi-pronged effort between receiving phone calls, e-mails, feedback on social media, and of course media interviews," he said.
On Dec. 24, the program begins with visuals of Santa getting ready to depart the North Pole. Through radar and satellites, NORAD is able to track Kris Kringle's movements globally, as infrared sensors detect heat — as Rudolph's nose helps detect Santa's whereabouts.
"When he enters Canadian and U.S. airspace, the Royal Canadian Airforce has jet fighters greet him at Newfoundland," he noted, as Santa is escorted through Canadian airspace and then transitions to U.S. airspace.
Historically, the tradition of tracking Santa began in 1955 after a Colorado Springs-based Sears Roebuck & Co. advertisement misprinted the telephone number for children to call Santa. Instead of reaching Santa, the phone number put kids through to the CONAD commander-in-chief's operations "hotline." The director of operations at the time, Colonel Harry Shoup, had his staff check the radar for indications of Santa making his way south from the North Pole. Children who called were given updates on his location, and a tradition was born.
In 1958, the governments of Canada and the United States created a bi-national air defense command for North America called the North American Aerospace Defense Command, also known as NORAD, which then took on the tradition of tracking Santa.
According to Hillier, on Christmas Eve, 1,500 volunteers from the military and local communities lend a hand to help track Santa.
Hillier also had a bit of advice for kids on Dec. 24 — "It's best to be in bed early," he noted.