Redcliff mourns loss of young local hockey player
Posted on January 22, 2019 by 40 Mile Commentator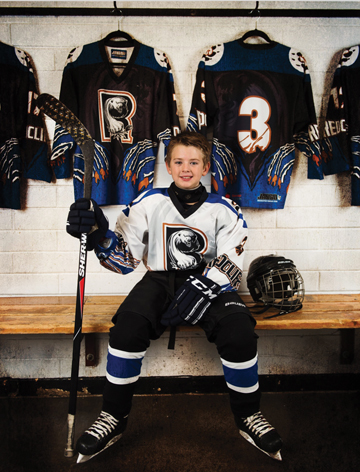 Justin Seward
Commentator/Courier
The Town of Redcliff has stepped up to the plate for a local family after learning of the sudden passing of their 10-year-old son on Friday night.
Dexter Druar was a Grade 5 Margaret Wooding School student and played for the Atom Blue Grizzlies.
"Great kid. Full of life.," said Redcliff Minor Hockey president Bruce Johnson.
"It's obviously one step at a time. (On) Saturday we had the teams that were most directly affected, two atom and one novice team, in a central location for counsel and grief management supplied by Prairie Rose School Division(PRSD). We created direct activity with all the parents and all the members of the association for counseling."
Johnson said the immediate support is allow for time to grieve, but multiple teams had stepped up and done bottle drives over the weekend, which filled three-and-a-half garages.
"There is a direct e-transfer for the Redcliff Minor Hockey Family to donate money," he said.
"There is a Facebook page that been receiving overwhelming support. The calls have been streaming in."
PRSD felt the sting of losing one of their own young students.
"Our hearts are breaking for the students and family members," said PRSD assistant superintendent Reagan Weeks.
"The division will respond by providing support for as long as needed as the community begins this grieving process."
PRSD is fortunate to have an experienced team to provide supports to students as a part of a broad learning community, she added.
"All students have an opportunity to connect with those workers, she said.
"This young gentleman was beloved and already had an outreach of community support. We know the Town of Redcliff is tight knit and working very hard to support the family."
Supports began right away Monday morning.
Donation can be sent to rrdreger@telus. net, with the funds going directly to the funeral costs and the leftover money going to the family.