Rural students bring a quality aspect to MHC
Posted on January 29, 2019 by 40 Mile Commentator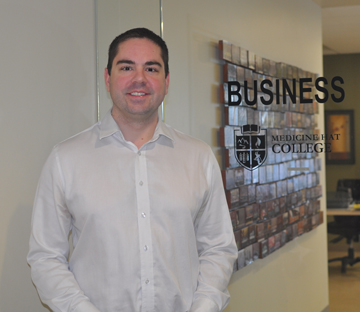 Commentator/Courier Photo by Justin Seward RURAL STUDENT IMPACT: Medicine Hat College's vice dean of business Karl Schwonik thinks rural students give the business program an invaluable perspective.
Justin Seward
Commentator/Courier
Although there is not rural-only programs at Medicine Hat College (MHC), farming students are still benefiting from courses with their skills of working long hours with their families.
One program that has flourished for Agriculture students has been the business program.
Karl Schwonik is the associate dean of business at MHC and said the majority of students are from rural communities, and bring a unique vibe to the program.
"It's more of a small town rural vibe, said Schwonik.
"Our students come in with different skill sets, especially if they come off the farm. They come in with some physical skill sets as well as a lot of the intellectual that you get with small business owners.
"A lot of farmers are entrepreneurs. They're small business owners, who are every year having to make decisions that affect their well being. These students come in with that mentality and that great experience and that helps them within our courses."
Students learn the direct ties to the community or something that's experiential, he said.
"Experiential just being be a big word for practical," he said.
"Those students are used to that. They're used to going to school, coming home and working on the farm. We'll have a marketing assignment that works with a company in town and that's experiential. They get that direct experience working for a company, learning how to market in the real world, rather than just in the classroom."
With how the current structure of the business diploma is set-up, the college focuses on general management and with agriculture or oil and gas background students, it only enhances the program with their backgrounds.
"In business, a lot of the work we do is in groups," said Schwonik.
"…Four and five people in a group doing an assignment, presentation, creating a work plan for maybe a business in town. When you bring all those perspectives in, it only strengthens or enhances the group."
Jordan Pomrenke is a business student who grew up on the family farm Saskatchewan and has found with his prior knowledge combined with different perspectives in the classroom, the course has prepared him for the agriculture world.
"I think from living on the farm, you don't necessarily think of it as a business," he said.
"But coming to the college and learning about business and everything that they teach, even though you might not necessarily link it directly, everything you learn at college can be transferred over into farming. You may have to strict how you think a little bit to fit that mindset. But once you do, I think it becomes a lot more potential for you to maximize your farming into creating more value of what you do."
Vertical integration is a term that he has learned a lot about and a highlight for him, where a company of two or more stages operates under a single company.In farming, he related to moving up and down the supply change where if a farmer was integrating down, that means they're growing their own seed, while going up is cleaning your own seed.
"These are viable business opportunities," Pomrenke said.
Other farming aspects that fit under the agriculture business umbrella that he wants to maximize the possibilities of include grain and equipment management.
Work ethic is a strong characteristic of a farming background that is brought into the college.
"It almost naturally makes you a leader and being able to step up and using some of the management to help set some of the direction, vision for whatever the group project is," he said.
MHC interim vice-president Terry Chapman believes rural students are how key component on how the college operates.
"Rural programing is embedded in all that we do, whether it's through our credit or non-credit courses, we are focused on serving the students of our region. We are always exploring new opportunities and ways that we can partner to meet industry demands and the needs of our learners," she said in a statement.
Since the last college year, the top 5 programs with the highest enrollment of rural students are Health Care Aide, Therapist Assistant diploma, UT: Bachelor of Nursing, Early Learning, Child Care Certificate and Practical Nursing Diploma.