Hidden Valley having a great year for attendance
Posted on March 13, 2019 by 40 Mile Commentator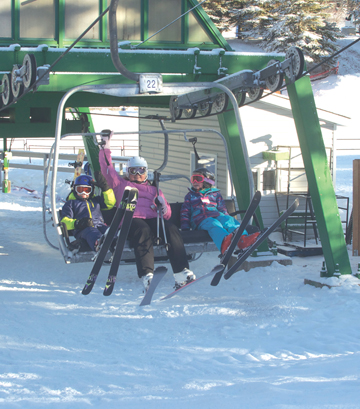 Commentator/ Courier File Photo Theo and Yolanda Marx, along with Carly Kaempel, came all the way in from Moose Jaw to enjoy the sunshine on Hidden Valley Ski Resort's opening day on Dec. 16, 2017. The ski season for 2021/22 is in jeopardy as the hill sits in limbo awaiting a private operator to take over.
The milder temperatures to start the ski season back in mid-December did not seem to phase skier or snowboarders as they still came out in flocks to Hidden Valley Ski Resort to kick up the powder.
"We got off to a very strong start," said Mike Ractliffe, head of visitors service for Cypress Hills Interprovincial Park.
"Right back into the middle of December when we first open is one of our best opening weekends for a few Reasonable prices have attributed to the well attended opening days the last couple of years.
"We make it affordable as we possibly can," said Ractliffe.
"We sold more seasons passes than we did last year. I think at $40 for a day pass is still one of the most affordable ski resorts in Alberta."
Between opening day to mid-January, the ski hill attracted 250 school kids per day and close to 300 on a weekend. In February, student attendance dropped off due to school policy of canceling an event at a certain temperature.
"We're still open until we hit minus 40 with windchill," he said.
"Beyond that it's unsafe to work in the outdoors. We make sure everyone is OK. We still have people coming out braving the cold temperatures."
The hill is going to try and fit in extra days where there are gaps through the next couple of weeks for the schools, he added, while the cold conditions do not make the hill all gloomy as it has allowed the snow making to go easier and for pristine conditions.
People are making the trek from Saskatchewan as it is the closest ski hill and there has been a noticeable increase in families coming from Calgary and Lethbridge.
"We have seen more people (plus) their families, either visiting or they might have a Ski and Stay package to some of the hotels," he said.
"Instead of staying for one day, they stay for two, or instead of staying for two days, they stay for three. It's that extended stay which is nice to see."
The ski season will come to a close again this year with the Slush Cup on March 24.