There's more than blues at the Bow-25 years strong
Posted on March 13, 2019 by 40 Mile Commentator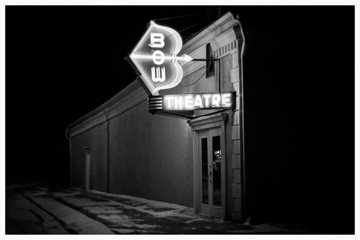 Blues at the Bow website photo
By Stan Ashbee
Alberta Newspaper Group
Blues at the Bow celebrates the end of its 25th year with a season finale March 30. The Bow Island attraction proudly presents West Coast All Stars featuring Junior Watson. Juno Award-Winner Harrison Kennedy opens the show. "That one should be one to go down in the books," noted Blues at the Bow President Grenner Veilleux.
Junior Watson, with nearly 30 years of experience, has reached cult status — according to his official bio. Watson has done what all great artists have done — melting diverse styles to create a style all his own. With diverse and influences aplenty, Watson has truly created one of the most unique and original guitar voices to come along in years. In his own words, Watson said his act is "like a train off the tracks."
Watson has done so much for blues, according to Veilleux. "He's played with Canned Heat."
Opener Harrison Kennedy has been on Veilleux's radar for quite some time, but for one reason or another, the timing hasn't aligned. "Finally, with this show, we kind of pulled out all the stops and went after him. He's amazing."
Blues at the Bow is located in the historic Bow Theatre in Bow Island. Touted as a "down-home club in the tradition of juke joints of old" — the house is a concert venue with the social and dance benefits of a bar featuring live blues. The venue is home to a balcony, three-tiered levels of table and chair seating, a sunken sloped dance floor, and a state-of-the-art sound system.
A committee of volunteers runs the non-profit organization and in 1993 the Bow Island Historical Society renovated the theatre and formed the Blues on the Bow — "There's always a good show at the Bow."
Veilleux said the past year at the local live venue was amazing. "We've had some amazing bands. We decided to try to take it up a notch and get a lot of our personal favourites among the board in of previous bands and also we had a mix of some new bands we haven't had either. It's been good," he said.
This season's average for event attendees were between 200-220 per show. "Which is close to max. Our max is roughly about 240," he said, adding six shows are put on a year. The new season kicks off April 1.
According to Veilleux, he was around 14 years old when he caught his very first show at the Blues at the Bow with his dad. "That was basically right when it opened up at the Bow Theatre. Then I kind of lost touch a bit with the organization, but I always kept it in the back of my mind. About six years ago I started volunteering, then I joined the board and for the past three years I've been president," he explained.
Blues at the Bow is indeed unique, he noted. "I've been to a lot of venues and there's not too many that offer what the Bow Theatre offers. It's very intimate. There's not a bad seat in the house, so that helps. We've had a great group of volunteers over the years that has kept it going. Without them — it would have fallen apart years ago. And, just great music. The blues category is pretty broad. It can go from gospel to almost rock and roll. It appeals to many — a wide audience."
In a sense, Blues at the Bow has put Bow Island and area on the map. "We definitely have community support, but it's bigger than that. We have a group of Saskatchewan, around east-end, that comes pretty much to every show. We get a lot of people out of Medicine Hat. We get people out of Lethbridge. People have come down from Edmonton, Calgary, and B.C. They come from all over," he noted.
When talking with Bow Island Mayor Gordon Reynolds, Veilleux said the mayor was actually a part of the original group of volunteers that got things going, but with his position as mayor of Bow Island he travels abroad. "When talking with people, he mentions Bow Island and he's always surprised with how many people know Blues at the Bow and Bow Island because of it. It's a small group of people, the blues community. But, it's a lot of friends and a family-type atmosphere."
For more information visit online at bluesatthebow.com. The last show of the season starts at 9 p.m. Doors open at 8 p.m.