Local businesses prepared for wind farm's arrival
Posted on March 26, 2019 by 40 Mile Commentator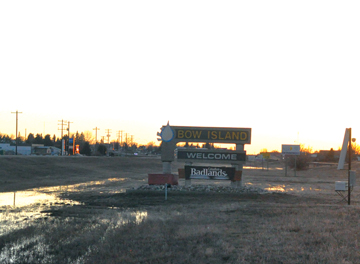 Commentator/Courier Photo by Justin Seward
By Justin Seward
Commentator/Courier
With the $325-million Capital Power Whitla Wind Farm's construction south of Bow Island commencing in full force come June, some of the local area businesses have seen an impact on their operations before a turbine has arrived.
Bow Island Integra Tire has already had service calls out to the construction site to repair tires on a handful of their trucks.
Trucks are in regularly according to Integra Tire owner Frank Loewen.
"We are pretty well prepared since we are far away from the City of Calgary," said Loewen.
"We try to have the stock if they need it just to be ready so they can get going and don't have to shut down for any reasons."
He says with a few extra of their trucks being worked on ,the local community has benefited because of not only the project's employees working in the area but with more revenue turning over locally.
A challenge for the tire shop with this working relationship with the wind farm is to be ready and prepared as the business operates on a first come first serve basis and not by appointments.
The Rolling Pin bakery is Co-Owned by Eva Loewen and Nella Wolfe. Loewen says the business has worked with project representatives, having catered their events.
"We're definitely hoping a profit from some of the employees coming into town," said Loewen.
"They said when they come back in for the actual project that they'll definitely keep us in mind for any catering jobs as well as recommending us to anybody that is staying in town."
The bakery is wanting to hire more seasonal staff in case of a sales increase as well as if they need more space they have the patio to use, she added.
"Hopefully it will help everybody out in the community," she said.
"We are a small town. We're not exactly suited for large amounts of people. But maybe it'll get Bow Island on the map a little more and have our businesses be known around southern Alberta."
Foremost Farm and Hardware Store owner Rory Calhoun is hoping to capitalize on the hardware sales when the project is in full swing.
"What I'm looking at is sales and more people (and) any action," he said.
Wind turbines will start rolling through town in June and construction will go right through October.