RYC providing the chance for kids to cook up a storm
Posted on April 2, 2019 by 40 Mile Commentator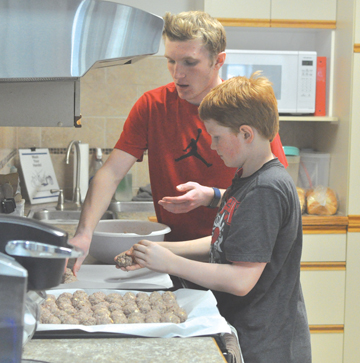 Commentator/Courier Photo by Justin Seward Merrick Oler and Braiden Palumbo prepare spaghetti and meatballs during the Redcliff Youth Centre's dinner program on March 28.
By Mo Cranker
Alberta Newspaper Group
The Redcliff Youth Centre is giving kids the chance to cook up new life skills — literally.
Every Tuesday and Thursday night the centre hosts kids from the Redcliff and the surrounding area to teach them how to prepare and cook their own meals.
"We're a not-for-profit organization that hosts youth from 10-17 and we allow them to come and hangout," said program co-ordinator Brett Tobler. "We do a dinner program twice a week and we teach kids how to cook a number of different meals.
"Spaghetti, big meals that are nutritious, things they can make as they gain more independence and move forward in life."
The program is free and open to all kids of age in Redcliff and the surrounding areas and the Medicine Hat Foodbank and the Community Foundation sponsor it.
"This is a popular program," said Tobler. "Tuesdays and Thursdays are our busiest nights and we usually see 30-50 kids per week."
Tobler says all kids qualify for the program.
"After they cook their meal they get to eat it of course — it's rewarding for them," he said. "This is for al kids who are looking to gain new skills and to gain independence — all kids from Redcliff and Medicine Hat can come, as long as they can come here.:
Tobler says the program is an important one for kids to take part in.
"As kids get older these kinds of skills get more and more important," he said. "It's great for them to get these life skills at this young of an age.
"Some youths have a tough time expressing themselves and this can be a great way for kids to do that, too."
More information on the program can be had by calling the Redcliff Youth Centre at 403-548-2811.