Bulldogs' alumni taking part in Prospects Cup
Posted on April 30, 2019 by 40 Mile Commentator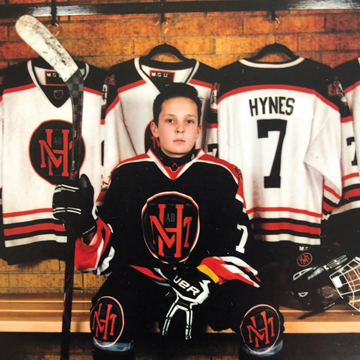 Photo submitted Sam Hynes is ready to further his development at the Prospects cup next week.
Justin Seward
Commentator/Courier
While many young hockey players are well into their off seasons, next week will provide a chance for Irvine Minor Hockey alumni and current Medicine Hat pee wee AA Hounds players Sam Hynes and Jesse Klimosko the chance to participate in the Peewee Prospects Cup in Lethbridge.
The Peewee Prospects Cup is the start of the Hockey Alberta Development program and is held in off years of the Alberta Winter Games.
The tournament provides second-year peewee athletes, coaches, trainers and administers an opportunity to discover the qualities of competitive hockey in a well-organized regional camp and select team competition.
Both players had to attend a a regional camp in Olds earlier this month and each earned a spot on Team South Yellow for the south region in the eight-team tournament.
"When you got to Olds to try out, you had one thing where it was like a practice. You did the skills session and the next day you had a game that you played against another try out team," said Hynes, who played right up to peewee in Irvine.
"Then you had 3-on-3 ice battle drills and played another game for the final day. I just had a real good try out."
Hynes felt his speed and strength is what was most effective in his game at the camp and what earned him a spot.
They just looked for what if you knew what kind of player you were," he said.
"It was really good experience. There were a lot of good players there. As I go up in age groups, that's how a lot more try outs will be like."
With there being a lot of unfamiliar opponents from the north region, the key will be to play your own game and contribute to the team as much as possible.
The forward said he likes to score and shoot the puck a lot and hopes to use that to his advantage.
Both players came off successful seasons with a Hounds club that only lose six games in the regular season, only to lose to West Central Tigers in the league final and brought home bronze as provincial hosts.
"We won quite a bit. It was pretty fun," he said.
"We were good as a team. We had a lot of practices and we got to know each other pretty well."
Hynes hope to make the bantam AAA Tigers next year and the bantam level Alberta Cup next spring.
The Peewee Prospects Cup is from May 8-12 at the ATB Centre in Lethbridge.
Klimosko was unavailable for comment before press time.