Redcliff's historic park delayed in completion
Posted on April 30, 2019 by 40 Mile Commentator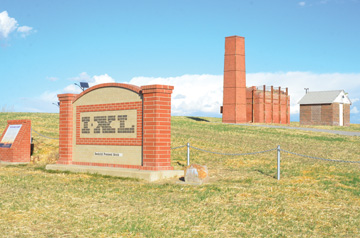 By Mo Cranker
Alberta Newspaper Group
For the past couple years, a historical park has been coming together at the old I-XL site in Redcliff.
Construction began on the project in mid-2017 with I-XL president Malcolm Sissions working as the lead on the project.
Sissons had originally hoped the park would be opened in late 2017, but a few bumps in the road have caused the opening date to remain a question mark.
"We have the equipment placed and we have the Marshall mural carved and fired — the next step will be to install it, hopefully this spring," said Sissons. "We still need to get signage done and other small things before we can open.
"It's been a bit of a process but work is always going into the park."
The park will have access from Mitchell Street and will be a nice place to go for a walk, says Sissons. He added that the hot, dry weather during summer has not been kind to the park.
"We originally seeded it but it was so hot and we weren't getting any rain, so we actually had to re-seed the area last year," he said. "We're hoping we're going to be getting a little more rain this year so we can get the area covered in grass.
"There isn't a swing set or anything at this park, it's more of a place you walk through to learn the history, so we need the grass to grow."
Sissons says he is hoping to see the park get an official opening at the end of this year but added that it is not set in stone.
"It's gone a bit slower than expected — but we're getting there," he said. "I'm hoping it's done this year."