Flip Flop Flowers helping the Foodgrains Bank
Posted on May 7, 2019 by 40 Mile Commentator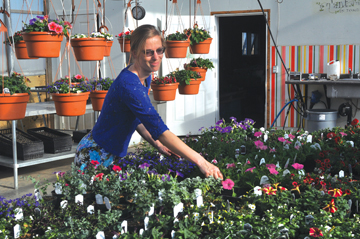 Commentator/Courier Photo by Justin Seward Lia Schipper working the variety of flowers in preparation for this year's sale.
Justin Seward
Commentator/Courier
Flip Flop Flowers is growing flowers for the second consecutive year to help the Canadian Foodgrains Bank.
The greenhouse is located east of Bow Island on the Schipper Farm and the project became a whole family effort.
"We wanted the change the focus from ourselves and give more back," said Lia Schipper who does sales and is Co-owner of Flip Flop Flowers with her sister Colleen.
"I didn't know about the Canadian Foodgrains Bank until two years ago, as that's when it was brought to us and we really liked it."
The Canadians Foodgrains Bank's mandate is grow and provide food in time of crisis for hungry people in the developing world while helping people grow more food to better feed themselves and their families .
Mother Dee Schipper took over the workload when her daughters had got jobs and turned the Flip Flop Flowers greenhouse into an initiative last year with the Canadian Foodgrains Bank where the flowers are sold and the profits go to the organization.
"We have these awesome neighbours, research, enterprises and they don't," said Dee.
"If something can help them, we gladly help those initiatives. We like that the Canadian Foodgrains Bank also teaching (about) the kitchen, gardens, so they always have food. We think the plants reflect a good need."
Lia says the most important aspect of the project is to start thinking about customer orders early in the fall.
"Then we get the shipment in, plant them, take care of them , baby them and actually make it that they get to the customer," said Lia.
"Whenever we sell out, we're done . Usually that's sometime in June. We normally sell to the last flower."
Customers that come to the greenhouse can purchase betting plants, succulents, hanging baskets and birdhouses with a plant on top.
"They really like it because it's just an experience to come out to a farm," said Lia.
"Everyone liked that us girls started it even very young. We've had some customers for 15 years."
In it's inaugural year, the initiative brought in a profit of $500 and the plan is to rake in $2,500 this year.
Flip Flop Flowers is opened from the first weekend in May until June and closed Sundays.
If anyone has any questions about Flip Flop Flowers or the initiative, you can contact Lia at (403) 957-1488.