Museum is much more than just windmills- Etzikom treasure opens May 15
Posted on May 7, 2019 by 40 Mile Commentator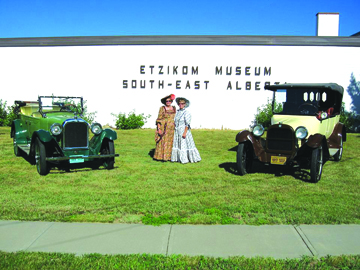 By Stan Ashbee
Alberta Newspaper Group
Next year marks the Etzikom Museum and Canadian Historic Windmill Interpretive Centre's 30th anniversary. The community museum is located in Etzikom — an approximate 18-minute drive from Foremost.
"We opened in 1990," said June Mitzel, advisor and long-term volunteer. She added the museum's 2019 season runs from May 15 until the Labour Day long weekend in September. The centre is open daily and all holidays 10 a.m. to 5 p.m. and Sundays from 12-6 p.m. The museum has undergone updates, restorations, and the church was painted.
Last year was a very busy year at the centre with increased attendance — thanks to road work near the museum. "We had a lot of construction in the country. They built a highway from Foremost to Etzikom, so there were construction crews around. And the water project that came through — there were workers around. We had a pretty busy summer, really," she said, adding she hopes this season is just as good, if not better.
Word of mouth seems to work best when it comes to spreading the word about the museum, she said, and the centre also has a presence on social media with its official Facebook page.
According to Mitzel, the museum is fully-staffed for the season and has homemade pies, sausage rolls, and snacks on hand to purchase. The centre also has a brand new executive board and is often touted as Alberta's "best kept secret."
Mitzel said she has been involved with the museum since its very beginning. "I was a volunteer curator for 30 years. We started building in 1986."
Mitzel added with close to 12 windmills on display — it's not so much about the windmills, but the building. "The museum itself was the former high school. We have all kinds of wonderful artifacts. We have a music room. We have a wildlife room. We have a homesteader room. We have a replica of a town inside."
Admission to the museum is $7 for adults (14+) and $5 for seniors.
"Please come support us because we need your help," she said.