Thompson earns spot at national science fair
Posted on May 7, 2019 by 40 Mile Commentator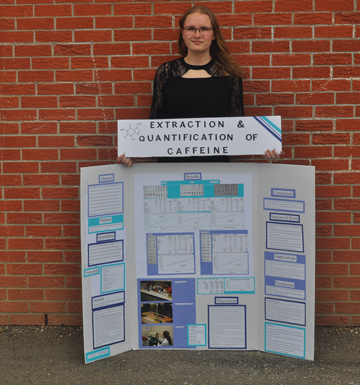 Commentator/Courier Photo by Justin Seward Seven Persons student Daphene Thompson is heading out to New Brunswick for the Canada Wide-Science Fair this weekend.
By Justin Seward
Commentator/Courier
*UPDATED: The initial sentence said Daphne Thompson is attending the national science fair later this week, when it should say later next week*
Seven Persons School Grade 9 student Daphne Thompson is taking her science talents to Fredericton later next week.
Thompson earned a spot in the Canada-Wide Science Fair competition after winning gold in the intermediate division for her zone at the Southeast Alberta Science Fair last month.
"I am honoured to represent this region," said Thompson. "It's huge for me because it was my goal."
The project that booked her trip to the Maritimes is called the "Extraction & Quantification of Caffeine," which was chemistry-based experiment where Thompson used a thin-layer of chromatography (lab technique for separating a mixture) to extract caffeine from coffee grounds.
"I started out wanting to extract caffeine from Tim Hortons and different coffees," she said.
"I ended up trying to develop a precise and efficient method of caffeine extraction. So not just focusing on how much caffeine but trying to get a consistent and precise method of extraction."
She added a chemical called dichloromethane to dissolve the coffee grounds before evaporating the chemical off to have a result of sheer caffeine, which was not pure at the end because of some products still remaining.
The thin-layer chromatography measured her results, while she used an ImageJ program to analyze the spot on the plate.
"Mr. Resch, my science teacher here, he suggested I do some caffeine extraction because I like chemistry," she said.
"I was like 'Oh let's develop this method,' because the method I was using was not good. I think the method I developed could be applied to high schools. They don't (do) caffeine extraction in high school because you have to use large funnels and distillation material."
Now heading to the national science fair, she is looking forward to exploring the city and is excited to see all the other projects.
"I'm excited to see all other projects. It will be a real eye-opener to check out the other science youths of Canada," she said.
The Canada-Wide Science Fair is from May 15-17 in Fredericton.