County council votes to send Kurpjuweit to FCM Conference
Posted on May 14, 2019 by 40 Mile Commentator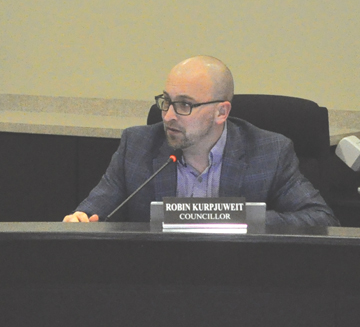 Commentator/Courier File Photo Coun. Robin Kurpjuweit.
By Justin Seward
Commentator/Courier
It was the day after Medicine Hat city council decided to boycott their attendance to the FCM (Federation of Canadian Municipalities) conference that Cypress County voted on May 7 to send Coun. Robin Kurpjuweit to the conference later this month in Quebec City.
Medicine Hat city council voted on Monday night to boycott sending a representative because of Quebec declining to build pipelines in support of western Canada's energy sector.
"It doesn't get us close together. It drives us more apart," said Kurpjuweit.
Council's vote not only endorsed sending Kurpjuweit as a representative, but it will allow the chance for him to vie for a third vice president as the prairies representative.
"What we were looking at from a county perspective was that in the last few months that this is the year where FCM elects a new third vice president which is a part of the transitional plan because the third vice president becomes second (and) then becomes first and then serves as president for one year," said Kurpjuweit.
Kurpjuweit said within the last two months he has been encouraged by multiple people to consider the third vice president role for the rural small town voice.
"They (FCM) do a pile of amazing advocacy work on those municipalities," he said.
"But it's sometimes difficult for the smaller communities to have a voice when you're going up against 19 urban centres (that) make up half the population of the country. We're building relationships versus the boycotting route. It's not productive, especially advocacy, because to be present and visible, you have to be there and have a voice."
He hopes to get the small town, rural voice out and addressing issues such as MSI funding, and declining assessment values on linear taxation to name a few.
"We want to be at the table, and we have someone who's passionate about advocacy who wants to put in the time. It would be great for our province and region," said county Reeve Dan Hamilton.
The FCM Conference is from May 30 to June 2 in Quebec's capital city.