Mile High Tri hoping for a return soon
Posted on May 21, 2019 by 40 Mile Commentator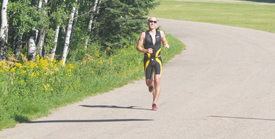 Photo by Justin Seward - Matt Ward crosses the finish line with ease to win the seventh annual Milehigh Tri.
By Mo Cranker
Alberta Newspaper Group
Organizers of the Mile High Tri are hoping another group can step in and run the triathlon.
The event ran for seven years in Elkwater before taking last year and this year off — race director Jack Ward says he wants to see the triathlon have success, but he knows a bigger organization will need to take it over for that to happen.
"We saw a lot of success early on with the triathlon — over 100 people in the first few years," he said. "As the years went on interest started to decline a bit and the last year we ran it we had under 50 people in the adult run.
"It's a really fun event, I just think an organization that can consistently get the word out to people, and has a strong volunteer base can really make this thing grow."
Ward says he would like to continue working on the triathlon going forward and that he believes in the event.
"There's a core group of people who participated every year in the triathlon and they looked forward to it every year — it's disappointing for us to let them down," he said. "We were running a kids' triathlon every year and it was getting more and more popular as we went on.
"This event can work — we just need a new organization to step in."
The event started in the water every year with contestants swimming to land, then biking and running to complete the course.
Ward says the event is "on hold" but the group is maintaining an up-to-date website with the hopes that someone will step in to bring the event back to southeast Alberta.
More information can be found by going to http://www.milehightri.org