Bow Island Emergency Services offers Advanced Vehicle Extrication Course
Posted on June 4, 2019 by 40 Mile Commentator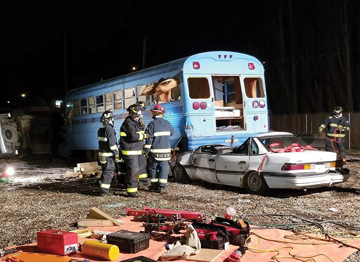 Photo submitted Bow Island Fire Department will be hosting an advanced vehicle extrication course next month.
By Stan Ashbee
Alberta Newspaper Group
Bow Island Emergency Services will be hosting an Advanced Vehicle Extrication Course July 5-6 at the department, said four-year volunteer firefighter Lt. Kent Unruh. The two-day training exercise will be taught by instructors from the Alberta Vehicle Extrication Association.
Aside from members from the Bow Island department, Unruh noted, members from departments in the County of Forty Mile and Cypress County will also be attending the special training opportunity.
"It's a two-day course. There will be half a day of theory and then a day and a half of practical skills. Basically, what it is — is just advanced techniques for vehicle extrication in a scenario where there's an accident and you're removing people from vehicles," he explained.
At the Bow Island fire department, Unruh added, members already practice vehicle extrication extensively, especially with Highway 3 running through the region. "We do have our share of those type of incidents. We want to make sure we're at the top of our skills."
According to Unruh, courses such as Advanced Vehicle Extrication are generally offered in Calgary and other areas. "We just decided instead of sending members up to it, we would hire the instructors and bring them down to Bow Island and then offer spots in the course to our neighbouring fire departments," he said.
Unruh said the expectation of members after completing the course is to acquire an increased level of skill and an understanding of effective ways to perform vehicle extrication. "As taught by world class instructors."
Bow Island Emergency Services, Unruh said, currently has 22 members.