Fatally injured mom's fawn saved
Posted on June 4, 2019 by 40 Mile Commentator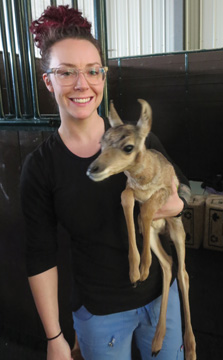 Alberta Newspaper Group by Gillian Slade Jerry Carr, registered vetrianrian technician,Animal Meidical Centre South in Dunmore, holds a 24-hour-old pronghorn fawn that was born by emergencyy cesarean on Highway 41A after his mother was hit by a by a vehicle.
By Gillian Slade
Alberta Newspaper Group
A pronghorn fawn is alive and well thanks to the skills and quick thinking of a local fish and wildlife officer and a rancher.
Tyrel Pahl, rancher, was driving on Highway 41a early Tuesday when he noticed a pronghorn that had obviously been hit by a vehicle.
"I know it is time for them to give birth right now and I knew it was a doe," said Pahl of the thoughts he was having.
Jeff Gilham, Alberta fish and wildlife officer, says he was informed of the injured doe on the highway just east of Veinerville at about 9:10 a.m.
As Gilham headed to the scene he was also thinking of the likelihood of there being a fawn because he knew other pronghorns were giving birth this week.
"The doe had broken legs, was in a lot of pain, and she had to be euthanized," said Gilham who then made the decision to do an emergency cesarean.
While Pahl had been waiting for Gilham to arrive he'd returned to his nearby home and collected a scalpel.
"I had never done it before but as a rancher I'd seen lots of cesareans on cows so I kind of knew what I was looking for," said Pahl. "I found the back legs then cut through the uterus and then pulled him out. He had drank a little fluid. I irritated his nose and he started sniffling and snorting and stared to breathe."
Gilham found a coat in his vehicle to dry him off a little before taking him to the Animal Medical Centre South in Dunmore.
"The people up there are just awesome," said Gilham. "They help us out all the time."
Jerry Carr, registered veterinarian technician, remembers the fawn arriving.
"We was still full of the afterbirth. We had to rub him down with towels, dry him off and warm him because he was pretty cold," said Carr.
Gilham says it is crucial to get some colostrum into a little fawn like that within the first hour. Staff made phone calls to find out a formula for the colostrum because you can't give them colostrum like you would give a domestic calf.
The fawn drank and then defecated.
"That's always a good sign," said Gilham. "We took a bad situation and made it good as much as we could."
Later in the day Pahl took his daughters, Hally and Evyn, 10 and 8 respectively, to see the fawn. Gilham suggested they come up with a suitable name and they decided on Saamis.
About 24 hours after performing the cesarean Pahl was pleased with how it all turned out.
"It's such a cool story," said Pahl who is so appreciative of Gilham and his skills in making this rescue.
What will happen to Saamis:
Saskatoon Forestry Park and Zoo agreed to take Saamis. Rehabilitation places and zoos in Alberta typically do not take antelope, said Gilham.
With the fawn doing well on Tuesday afternoon Gilham worked on the export permit for Alberta and an import permit on the Saskatchewan side.
"We have to follow that laws just like everyone else does," said Gilham.
Gilham gave special permission for Carr to take Saamis home on Tuesday night so he could be fed regularly.
Roughly 24 hours after birth a fish and wildlife vehicle had Saamis safely stowed in a carrier for a drive to Alsask where someone from Saskatoon would meet them. Saamis would be transferred and heading for a permanent home by Wednesday afternoon. His name will be a lasting reminder of his place of birth.
If the doe was so badly hurt how come the fawn was okay?
Gilham says it appears the impact with the vehicle did not affect the midsection where the fawn could have been injured.
Interesting facts:
It was unusual to have just one baby pronghorn born.
"Usually you have twins due to the fact that coyotes are their number one predator. Usually they give up one of the twins to the coyote and the other survives," said Gilham.
Pronghorns also calve about the same time.
"They all calve within about a week so that there's too many for the coyotes to get all of them and they are able to sustain levels," said Gilham.
What you should do if you see a fawn on its own:
Do not touch it. Generally the mother is in close proximity and will return to it.