County councillor returns from Quebec conference
Posted on June 11, 2019 by 40 Mile Commentator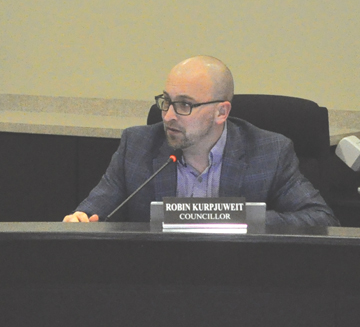 Commentator/Courier File Photo Coun. Robin Kurpjuweit.
When Cypress County Coun. Robin Kurpjuweit was voted by his fellow councillors last month to attend the Federation of Canadian Municipalities Conference in Quebec City, his focus was to go and be voted in as third vice-president for the prairie region – and to bring a rural voice to the table.
The FCM Conference was well attended as it hosted municipal council representatives from all over Canada talking about the municipal-federal relationship with the 2019 federal election looming in October. It also looked at outcomes that are created as municipal leaders to improve the quality of life for all Canadians.
"When it comes down to events like this, you get out of them what you put into them," he said.
"What we wanted to get out of it was more. We wanted to get a voice at the table. We wanted to be able to get more involved. We wanted to go to the conference having done some research on as to what's going to be there. Having the conversations (and) start to build these relationships."
However, Kurpjuweit did not get the third vice president position, as he was one of three western representatives who lost out to City of Saskatoon Coun. Darren Hill for the third vice president at the conference earlier this month.
"I was disappointed at the fact I didn't get elected as the third vice president," he said.
"But that's more about a goal that I had set that we had hoped to get to. But beyond that the trip was so much more successful than just the election."
Despite not reaching is ultimate goal, representatives did encourage him to become involved at the committee level and run next year to be the southern prairies representative.
"The request to put my name forward for some of the committees allows us to be at that table," said the county's Ward 4 Longfellow councilor.
"One of the things that was a real positive that came from running for that executive position was the fact that I had the opportunity to speak in front of 3,000 delegates on two separate occasions. We had the ability to talk about Cypress County (and) where our place is in Alberta. Over the four days, we talked a lot about what Alberta brings to federation.
Kurpjuweit says throughout the week there was intentional campaigning going on with talks and supporting the Canadian Energy Sector and the needs of the municipalities and provinces.
"The idea was to open up discussion in constructive ways that were respectful, yet still emphasized what energy brings to our country," he said.
"We as Albertans recognize how oil and gas has benefitted to our economy. We're also too well aware of how it contributes to the federal economy. But it's not as well known in the certain provinces out east, that the benefits they enjoy as a result of a thriving Alberta economy."
He has spoken to FCM board members about how the follow up to the positive conversations at the conference.
"You go and have successes like this where you're able to have conversation to see the positives that come from it," he said.
"We can't just leave it until next year. We now need to find ways to continue the conversation. I would easily talk to 30 plus mayors and reeves from across the country and probably upwards of 250-300 councilors from across the country.
"If we leave it at that and do it once every year, we're not going to get a lot out of it."
The component of the conference he admired the most was that the anti-pipeline people out east do not hate their western counterparts.
Kurpjuweit says they have their own regional concerns that prevent them from seeing the bigger picture.
"For us our concern is economic. We understand that it takes money to turn the lights on to provide services," he said.
"There are a lot people out there that are open minded to having those discussions."
With the City of Medicine Hat's council deciding to boycott the conference because of Quebec declining to build a pipeline in support of western Canada's energy sector, their absence was noticed.
"It was a little bit frustrating through the week because it was a constant distraction," he said.
"For a lot of people when you're talking to somebody from Ontario they don't know where Cypress County is. You would mention Medicine Hat and there was always a reaction that needed to be addressed at that point. Whether it was disgust or frustration, it lead to conversations, and most times you had to address and move on and further discussion."
Next year's FCM Conference is in Toronto.