Rural Community Fund of Forty Mile officially launched
Posted on June 11, 2019 by 40 Mile Commentator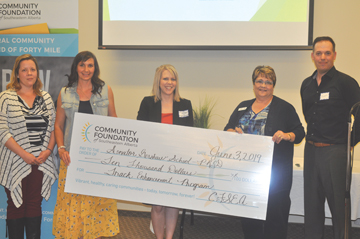 Commentator/Courier Photo by Justin Seward Tara Lockhart(l-r) and Megan Wever of the Bow Island Running Track Modernization committee accepted a cheque for $10,000 from the Smart and Caring grants program from CFSEA's Rural Community Fund coordinator Michelle MacLean, CFSEA's member Cheryl Pocsik and rural fund chair Clint Thacker during the Rural Community Fund of Forty Mile launch event at the Foremost Community Hall on June 3.
By Justin Seward
Commentator/Courier
The Community Foundations of Southeastern Alberta (CFSEA) launched a new rural chapter of their organization, the Rural Community Fund of Forty Mile, on June 3 at the Foremost Community Hall.
The rural community fund acts as umbrella under the CFSEA, where the donations will be administered through their Medicine Hat office and then transferred to the Rural Community Fund of Forty Mile.
The organization was established for any local charities ranging from recreation and entertainment to animals to be recipients of a grant, and will in turn will be supported back through the being the successful applicant in the grant process in the Forty Mile and Bow Island communities.
"Everybody in the community is going to know about it and we have the opportunity to bring something like this to our region is just fantastic because it's going to be here forever," said Rural Community Fund of Forty Mile coordinator Michelle MacLean.
"It's not going away. It's always going to be here for the residents and it's for ustoday as well as everybody in the future too."
The new community fund's process began last year when CFSEA's Marlene Watson had contacted some people who might be interested in sitting on the rural fund's committee and it was this past fall they saw their first donation come through the community fund.
"It's been a lot of fun," said MacLean.
"Everybody is actively involved. They're all here tonight celebrating with us. It's great that we have that support within our community to make sure that things can happen."
The grant dispersal happens once in the spring and once in the fall and will be handed out at a similar Forty Mile event.
Clint Thacker's, chair for the local community fund, interest peaked in having a Forty Mile chapter because it's a fund that grows over time and doesn't get spent as it'll be around for a long time.
"There's something exciting about knowing the money you're donating will always be giving back," said Thacker.
"The other side of it is where the money gets spent is decided by local committee members. It's very much a local initiative, run by local people (and) donations to local people."
Thacker says the support from the CFSEA has been tremendous from their board as well as the staff for setting things up and moving things along."
A first on the evening was ta grant being handed out through the Smart and Caring Community Grant to the Modernization of the Bow Island Running Track for an amount of $10,000.
"It was a decision that was reached by our committee just looking at all the applications that came in and basing it on what's going to serve the greatest need within our region and that was a really exciting project brought forth," said MacLean.
A goal of the new community fund moving forward is to reach the $10,000 mark in total and receive a $10,000 matching grant from CFSEA. The fund has raised $3,750 to date.
More information can found through http://www.cfsea.ca.