Suffield appoints 22nd base commander
Posted on June 25, 2019 by 40 Mile Commentator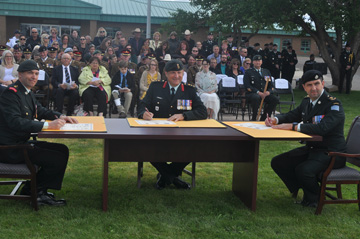 Alberta Newspaper Group photo by Justin Sewad Lt. Col Troy Leisfo (l) signs on as the new CFB Suffield base commander, while Lt. Col. Mike Onieu (r) and Col. Scott McKenzie (middle )from the third divison support sign off during CFB Suffield Change of Command ceremony on Thursday at the base.
Justin Seward
Commentator/Courier
CFB Suffield held its biennial Change of Command ceremony in front of a full parade square of Canadian and British soldiers, as well as families and delegates on Thursday to appoint the 22nd base commander.
Lt. Col. Troy Leifso takes over as base commander from Lt. Col. Mike Onieu, who retired at the ceremony after 26 years in the military as mostly an armoured officer.
"It truly is a great opportunity," said Leifso.
"I've had the chance to mainly work in a combat arms environment. I'm still a PPCLI (Princess Patricia Canadian Light Infantry). Not only do we get to work with our closest allies, the British, but we get to work with DRDC (Defence Research and Development Canada) and with great neighbours that surround the base here.
"As well, being in the heart of Alberta with oil and gas, not only plays a part in the community but on the base here as well. All those things you don't normally get at a regular unit and here they are all in one."
Leifso began life in the Canadian Forces in 1997 as a non-commissioned member in 1 PPCLI (Edmonton) where he served until 1999, and then upon completion of training in St. John, N.B., headed to Winnipeg with the 2 PPCLI until 2004. It was from 2007-2012 that he returned to the same unit at CFB Shilo where he completed a number of second-in-command and staff positions.
In the summer of 2012, he was posted to tactic school, while in 2014 he returned to 2 PPCLI as Officer Commanding Administration Company. In 2016 he became the Deputy Commanding Officer of 2 PPCLI until his deployment to Latvia in June 2017 as Chief of Staff, before being posted to the Combat Training Centre Headquarters, and became G3 in January 2018.
He is familiar with CFB Suffield, having trained there during his tenure in the military.
"Some of the best training I have ever done has been here in Suffield," said Leifso, who was last here in September 2016 as a Deputy Commanding Officer of 2 PPCLI with the Shilo base.
"I had the opportunity to train with the British here as well. My wife (Tara), I met her in Calgary and most her family lives here in Alberta. It was chance for her to be closer to her family because she has traveled all over the world with me.
"This was a chance to have a couple years where she's a little bit closer to her family and it gives my kids a unique chance to see life in the West here."
As the new base commander, he knows there is work to be done to improve fire response on the base and make sure blazes don't get too far.
"The nature of training we do, they're going to happen, and Lt. Col. Onieu and his team did a tremendous amount of work," he said.
"The second piece is communicating, and Mike and his team have done a tremendous job of improving the communication with the local community, especially the local neighbours and the local fire departments around."
Leifso had been briefed on the elk hunt and learned about the cohesive plan where the animal can thrive as a herd and limiting the impact on the surrounding community.
Additionally, he will sustain the relationship with BATUS.
His family is looking forward to settling and exploring the local area, while maybe taking in the odd baseball game this summer and Medicine Hat Tigers games in the winter.
For Onieu, the past two years marked a time as the best position he has held.
"It was so quick but I had such a great team to work with that it's been an amazing experience," said Onieu.
"There's a lot of things I'm proud of here. It was a privilege to get to work with the people I worked with. I did want to make the base a more connected part of the community and we did that. To get there, we didn't always do it the way we planned to do it. But I did get out and meet all my neighbours and I feel like we're closer."
Onieu says he was elated to help people further enhance their own careers.
"Every time we send someone away for professional development or training, watching soldiers and public servants progress, that's satisfying," said Onieu.
The Saskatchewan native retired from the regular army and plans on transferring to the primary reserve. He will be sticking around in the Gas City as Medalta's executive director.
"It turned out Carolyn (Onieu's wife) enjoyed it," he said of sticking around the area after arriving two years ago.
"We've formed a nice little life here. It's a great community. The city is attractive and it's kind of a well kept secret in southern Alberta. But a lot of people that come down here don't want to leave because it's a great group of people."
The biggest adjustment for him will be not coming to work and doing physical training every morning, not wearing a uniform and being outside a field he's been in for two-and-a-half decades.
A base appointment change also happened during the ceremony, as Chief Warrant Officer Marcel Chenier took over for Paul MacKeigan.