Eagle Butte's modernization project on time for completion
Posted on July 9, 2019 by 40 Mile Commentator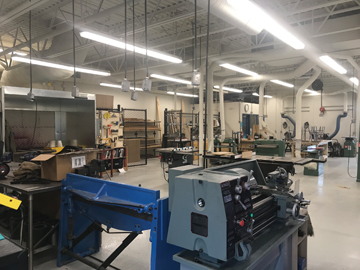 Justin Seward
Commentator/Courier
Eagle Butte High School's modernization project is still on schedule to be finished by Christmas this year.
The project that broke ground in 2018 included the installation of a new roof and solar panels, as well as interior renovations that included a brand new CTS shop, science lab, library, common areas, cosmetology lab, education rooms, drama, art room and retractable walls for classroom spaces.
"We've progressed really good, basically on to schedule," said Prairie Rose School Division's director of maintenance operations Darrel Drefs.
"We had no major issues, no hiccups. Everything went really well. Staff and students are getting a long, construction guys are doing good."
The art room, cosmetology room, a student collaboration area and the new more spacious CTS Shop are finished, while the front of the exterior is all finished and most of the roofing has been replaced.
The food lab is almost done and the septic field and solar panels will be done this summer.
The only delay was at the start with the steel not arriving on time for the shop.
"We had to juggle around other parts of the school to start the renovation and dealt with the shop and steel as the equipment arrived," said Drefs.
"We just took off a different part of the project to work on first, which meant a different kind of shuffling and maybe not as much as the initial schedule would have allowed for but all in all it's really close to schedule. We're probably at that 60 to 70 per cent (completion range) for sure."
There will be six months still left of construction once the next school year arrives and there will be some minor deficiency items to take care of, he added.