Stampede royalty crowned at Cypress Centre
Posted on July 16, 2019 by 40 Mile Commentator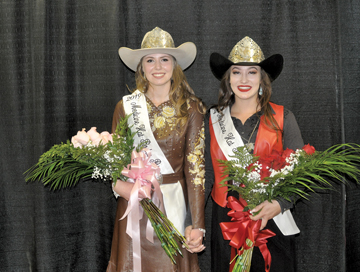 Alberta Newspaper Group photo Justin Seward Dionne Freimark was named the 2019 Medicine Hat Exhibition and Stampede princess and Rayelle Smith was crowned Stampede queen.
By Justin Seward
Commentator/Courier
The Medicine Hat Exhibition and Stampede crowned their 2019 queen and princess Saturday night at the Cypress Centre after a long, hard week of judging through horsemanship and public speaking events.
After various awards were handed out, Medicine Hat's Rayelle Smith was announced as the new Stampede queen and Walsh's Dionne Freimark as the new Stampede princess.
"It was definitely surreal," said Smith.
"I didn't expect it. I was in shock, almost cried, and I started doing math in my head."
Smith says it felt like the longest hour of all four contestants' lives after a busy week of events.
"We got out here at 8:30 p.m. and we didn't get back there until 9:30 p.m. It was definitely suspenseful," she said.
For Smith, preparation included writing a speech, rehearsing it everyday in the mirror with a hairbrush, organizing outfits and riding everyday because of the horsemanship competition.
"There's a lot of stress," she said.
"It's early mornings, late nights, no sleep. We went to lots of places like CORE, the Veiner Centre, BATUS, fire stations and meeting lots of people, which was really fun but it definitely catches up with you by the end of the week."
With Stampede now just more than a week away, she is looking forward to presentation laps on her horse.
Smith also won the Queen Speeches category and was the personality winner.
"Oh my goodness I made it," said Freimark on becoming Stampede princess.
"We ran with such amazing girls. All four of us deserve to win. I'm so honoured to be accepted as the 2019 princess."
Freimark says the experience itself will be a memory she will treasure forever.
"You grow so much during the week itself, she said.
She is looking forward to spending the year with Smith, as she knows the both of them will grow close.
Freimark also took home the Horsemanship Competition and the Dr. Gary Houston Memorial Photogenic Awards.
Dana Blasetti of Seven Persons and Emily Cheung of Medicine Hat were the other contestants.