Quonset Days shines despite rain
Posted on July 23, 2019 by 40 Mile Commentator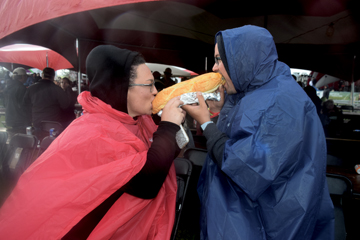 A DELICIOUS MEAL: Kelly and Mike Sehn enjoy a giant $20 Quonset Dog from Premium Sausage at the 2019 edition of Quonset Days. Organizers have cancelled the event for the second year in a row in 2021.
By Jeremy Appel
Alberta Newspaper Group
A little Saturday rain didn't stop attendees from enjoying Quonset Days.
The three-day festival held between Seven Persons and Whitla is in part the brainchild of Trevor Biemans, who lost his father to ALS a decade ago and decided to hold a fundraiser in his honour.
He says the event — which this year included musical performances from artists such as Phoenix, Washboard Union and Adam Gregory, as well as a silent auction, food vendors and places to park your RV to camp out — came from "humble beginnings."
He originally helped plan a Walk for ALS in Medicine Hat, but when that fell apart due to disagreements among the organizers in 2010, he decided to establish a festival out in the country.
"We wanted to do something different," Biemans explained, adding that his father would have preferred a more social event.
The inaugural event, which was planned a mere month in advance, had just 150 attendees and raised $8,500 for the ALS Society of Alberta.
"We've come now to where it takes a whole year to plan, we have over a thousand people each night and we're approaching the half-a-million-dollar mark," said Biemans.
He said organizers don't like to set fundraising goals, lest they be disappointed.
"We're basically happy with anything we can possibly give to ALS," said Biemans. "Obviously, it would be nice on our 10th anniversary to achieve such a goal."
He said Saturday was the first time it's rained during Quonset Days, but was confident the weather would clear up, which it did.
During the downpour, the large tents set up for shade served a "dual-purpose," Biemans added.
One of the food vendors is the Seven Persons-based Premium Sausage, whose proceeds that weekend are also going to ALS, selling their classic sausage on a bun, as well as beer cheese and a special $20 massive "Quonset Dog," meant to be eaten by two.
Owners Debbie and Mark Penner say the event is important for them because — like Biemans — they too lost a loved one to ALS.
Their friend, neighbour and business associate Ralph Erb died from the disease almost five years ago.
"We appreciated what the Biemans family did," Debbie said.
"When (Erb) was still alive, he came to several of these, so we've just maintained coming and being a fundraising partner," added Mark.
Debbie says it's remarkable "to see the community come together for this."
Some people came from relatively long distances to attend, like Kevin Zepick, who came from just southeast of Regina, driving six hours to meet his friends from Medicine Hat at the festival.
"It's a good time," he said. "The entertainment's good, the food's good and we know a few people here," Zepick said.