Third annual Heritage Day Picnic just around the corner in Etzikom
Posted on July 23, 2019 by 40 Mile Commentator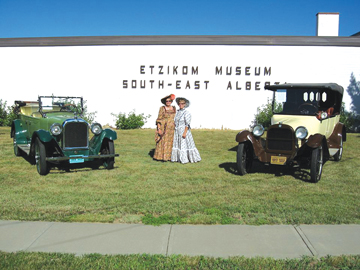 File Photo The Etzikom Windmill Musuem will be hosting another Heritage Day Picnic on Aug. 4.
By Samantha Johnson
Commentator/Courier Freelancer
The third annual Heritage Day picnic celebration will take place on Aug. 4 at the Etzikom Museum and Historic Windmill Centre. Located on the Red Coat Trail south on Highway 885 past the Highway 96 junction, the museum serves as a reminder of the early years on the prairies.
Cynthia Clark, president of Etzikom Museum, believes it will be there best one yet.
"Last year over 100 people attended and this year we are anticipating 200. It is a highlight people look forward to each year at the museum."
"Heritage Day is about history and community which is what museums are all about.  It is an opportunity to bring the widespread rural community together in a way that rural communities used to be. Everyone who came was dressed for the day, had a great times and old-time community picnics are a main event, and an opportunity to relax, play, and visit."
The celebrations will begin with an Old-Time Church Service at 11 a.m., followed by a hot lunch at noon. For children 10 years of age and under, there will be free hot dogs and watermelon. For adults, there is a $10 charge for a hamburger, salad and beverage. Additionally, those attending are welcome to bring their own food and have a picnic on the grounds. The lunch counter inside the museum will also be open for cold drinks and ice cream.
Beginning about 2 p.m., live music will start, with local musicians providing the entertainment. In addition, there will be games for children among other activities and the museum is open for tours. Later in the afternoon there will be a scrub ball game and festivities end at 6 p.m.
Located in what was once the local school, the museum opened in 1990. The Historic Wind Power Interpretive Centre followed in 1995 and the museum has seen two expansions since then, with the first in 2010 and the second in 2017 when the Nodwell Station building was added, containing two antique automobiles and service station artifacts.
Inside the museum, there is an old-style main street with a hotel and hardware store complete with supplies. In addition, with 20 windmills, it is the only windmill museum in western Canada. Clark said a few of the windmills are currently under repair, but there are still lots for visitors to appreciate. The windmills are of the type used to draw water from aquifers underground for household and farm use.
The museum opened from May long weekend through to closes after Labour Day long weekend. It receives visitors from across Canada, with a number of international visitors stopping in also. For the Heritage Day celebration, lots of local families come and enjoy the leisure of spending time catching up with each other.
Admission to the museum is $7 for adults, $3 for 12-17 years and $4 for seniors 65 years plus, and free for youth under 12 years of age. Come on out and enjoy the fun at this unique venue featuring early pioneer life in southeastern Alberta, remember to dress in your best Pioneer clothing.