Hughson rides to near perfection at Nationals
Posted on July 30, 2019 by 40 Mile Commentator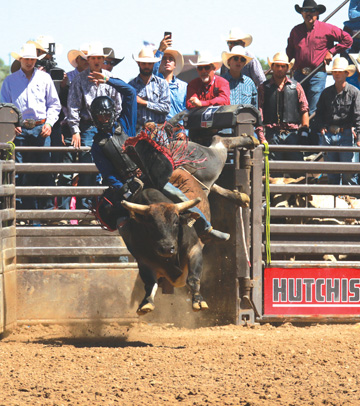 Photo Submitted by Lee Hughson Foremost bullrider Quade Hughson is seen here competing here at Nationals in Wyoming, where he placed second overall a couple weeks ago.
Justin Seward
Commentator/Courier
What separated Foremost's Quade Hughson and first place on the podium at the National High School Rodeo Association  in Wyoming two weeks ago was the Short Go round.
Hughson drew a big bull in the Short Go and unfortunately was bucked off of a bull that hadn't been bucked all week and settled for an impressive second place finish overall with 145 points as the Reserve Champion in his first appearance at the National rodeo event.
"It was cool to be down there competing against guys like that all over the world and to be able to do good as I did, it's a good feeling," he said.
Hughson says he was not surprised of his outstanding result because he feels he does well on the bulls.
The young rider was up against 150 bull riders that were from 43 States, five provinces, Mexico, Austrailia.
"It was a good group of guys and it was good to get along with people. (I) had fun competing," said Hughson.
Go Round 1 saw Hughson gain 76 points which was enough for eighth place and awarded a Top 10 plaque, while in Go Round 2 he raked in 69 points, placing ninth and was also awarded a Top 10 plaque.
In the Short Go he had his 145 points in his back pocket and was leading the average by 20 points.
It was only Hughson and another rider who rode both bulls after two rounds.
"I just had to stay on the bull to win it and couldn't do it," he said and only lost by three points to a Oklahoma rider for the crown.
"I was kind of upset that I didn't pull off the win, especially when I was leading it but I was still happy to pull off second."
He won a Reserve Champion Buckle, $950 scholarship from NHSRA, $300 Scholarship from Cinch Jeans and $1,555 from the bull riding jackpot.
There are four to five schools in the States taking a look at him with his result.