Redcliff library now signing out bikes
Posted on August 13, 2019 by 40 Mile Commentator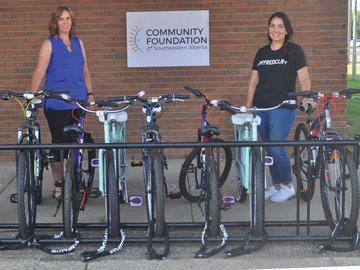 Redcliff library manager Tracy Weinrauch and Redcliff FCSS co-ordinator Carla Spampinato display the bikes that are available for borrowing.
Justin Seward
Commentator/Courier
Redcliff residents have been used to going to the library to sign out books.
But now thanks to the Town of Redcliff and the Redcliff library teaming up to launch the Redcliff Public Library Bike Lending Program on Aug. 9, locals or tourists can sign out a pedal bike from the library with the swipe of their library cards.
"We worked together with the Town of Redcliff to complete the grant," said Redcliff Public Library manager Tracy Weinrauch.
"Once we got approval we just purchased the bikes and got the logo on them all and got all the details. Now is the fun part. We just get to check them out and hopefully people get to enjoy them."
There are five adult bikes and two youth bikes that can be borrowed from the library.
"We find that more often than not kids have bikes but adults don't," she said.
"This will hopefully get families out there doing it together."
Weinrauch says the library took interest in the program because there are libraries across the province who are focusing on lending items that are non-traditional which include a bike lending program.
"We've already had people asking about them," she said.
"We weren't quite ready to loan them out last week. But we've got all the documents in place and we're ready to go."
Interested riders will have to have a good standing library card at any Alberta library, a waiver and release form that needs to be signed, while the library will photocopy picture identification. A parent or guardian will have to check out a bike for any one under 18.
The bike must be returned by the time the library closes at the end of the day. Overdue fees are $5 per day.
A $4,000 grant was obtained through the Community Foundations of Southeastern Alberta for the program which included the seven bikes, bike rack, and helmets.