Soldier's quick thinking may have saved a life
Posted on August 13, 2019 by 40 Mile Commentator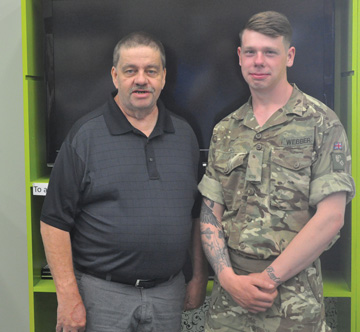 Alberta Newspaper Group Photo by Justin Seward Garth Knight and BATUS trooper Daniel Webber re-connected in Ralston on Aug. 6 for the first time since Webber saved Knight's life back in April after he suffered a stroke.
By Justin Seward
Commentator/Courier
BATUS trooper Daniel Webber was on his way back to CFB Suffield after an Easter Sunday night out with a couple soldier friends in Medicine Hat when the unthinkable happened.
The trio was just about home safely in a cab when Webber noticed the driver, Garth Knight, looked in distress as the taxi was nearing the turnoff to the base.
"Unfortunately, when we were nearly there I noticed something was up with him and wasn't quite sure what," said Webber.
"The vehicle started swerving on the road. That's when he looked at me and asked for help and I still didn't really know what was going on. I managed to grab the steering wheel, but one side of Garth's body had gone quite stiff. We were going off to the central reservation. I managed to get the vehicle back on the road and to a halt."
Knight had suffered a stroke.
Once Webber got the car stopped he called an ambulance for help, which delivered Knight to Medicine Hat Regional Hospital before being transported to Calgary.
"Quite scary at first because I didn't know what to do," Webber recalls of the experience.
"I've never been in that situation before. I knew I had to stop the vehicle, that was a given. But once I stopped it I didn't really know. I knew to keep him awake and alert and call the ambulance and hope they would go there as quickly as they could."
The ambulance took about half an hour to reach the cab since the soldiers are British and didn't know their exact location in the rural area.
On Aug. 6, the Knight family was re-united with Webber for the first time since the health scare.
"Very seldom do you meet someone that thinks more of someone else than themselves. It's a rarity nowadays," said Knight's wife Melanie. "There was so much going on and would've loved to get in contact with him sooner. But things were blindsided by everything that was happening.
"It was important to see Daniel, knowing Garth is better now and on the road to recovery. It was something we wanted to do as family is to meet him."
Son Derek Knight said, "I'm forever grateful because without (Webber) my dad might not be here."
Garth says he had no previous signs that April day of having stroke symptoms.
"I think I was fine until about the lights at Suffield," he said.
"That's when I realized there was something wrong. I don't know if I was understandable or not. But I tried to say 'I needed help.' I really don't know much after it because I woke up in the hospital."
He noted that Webber didn't just call a paramedic but also went to hospital with him in the ambulance to make sure he, as well as his family, was alright.
"The soldiers normally get a bad rep in Medicine Hat. We all know that," Melanie said.
"Daniel proved to me that he was one of the good ones. He called me at 3 a.m. My phone rang, it said 'Garth.' I thought it was my husband. Daniel and his mates were the last fare of the night for Garth. Sometimes on the weekends, he'll phone and ask if I want (Tim) Hortons before he comes home. All I hear on the other line is Daniel and he's telling me 'I don't mean to alarm you.'
"He was so good and so calm through the whole thing … He had so much heart as far as being there for us."
Garth says he will not be returning to work as a cab driver and felt it was time to move on.