Quonset Days raises $65K for ALS with record attendance
Posted on August 20, 2019 by 40 Mile Commentator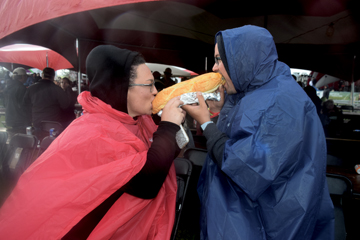 A DELICIOUS MEAL: Kelly and Mike Sehn enjoy a giant $20 Quonset Dog from Premium Sausage at the 2019 edition of Quonset Days. Organizers have cancelled the event for the second year in a row in 2021.
By Jeremy Appel
Alberta Newspaper Group
Despite some unfavourable weather, this year's Quonset Days was a success, raising $65,000 for ALS research, according to an organizer.
Trevor Biemans says the annual event had "record attendance" on the Friday, with about 1,100 people attending, which is "significantly higher than any other year."
He says there are two factors contributing to the increased attendance — that it was the event's 10th anniversary and the impressive lineup of musical acts.
"They put on a heck of a show for us," Biemans said. "All the band were really excited to be part of it."
The second day had 1,200 attendees — roughly the same attendance as 2018 –which Biemans said is an achievement considering the rain that poured down on the event, causing musical performances to be delayed.
"We had the advantage of having the tents and whatnot on site. Everybody hunkered down," he said.
The scheduled peddle tractor races had to be nixed, but otherwise everything went off without a hitch, Biemans said, saluting the patience of attendees, particularly those who had to wait longer for the shuttle to Medicine Hat.
He said the ALS Society of Alberta is going to get back to organizers about what projects the $65,000 raised will go towards.
"That money is going to stay right here in the province of Alberta, either for research or funding for people who have ALS," said Biemans.
Planning for next year's Quonset Days is already underway, with dates of July 17-18, 2020, scheduled.
Biemans said tickets will go on sale before the end of 2019.
"We always like to think we take a month off after everything's done, but we've already got wheels turning. We're thinking about who we're going to get for next year," he said.