Rescuing llamba and alpacas at Bitter Water Rescue Ranch
Posted on August 20, 2019 by 40 Mile Commentator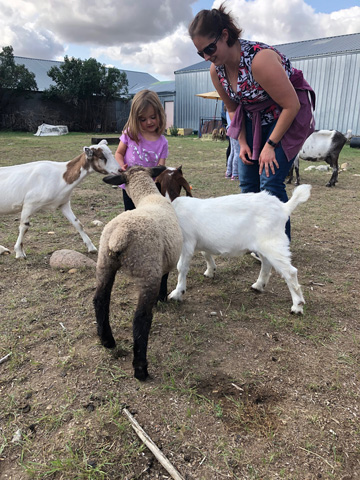 Commentator/Courier File Photo Elise Hildebrandt pets the goats with her mom during the Alberta Open Farm Days event at the Bitter Water Rescue Ranch in 2019. The Ranch will host for a second consecutive year on Saturday.
By Samantha Johnson
Commentator/Courier
Located along the Black and White Trail a few minutes outside of Medicine Hat is a quarter section of land containing the Bitter Water Rescue Ranch.
"We've been at this location for four years now, although we've been rescuing animals for longer. The situation before wasn't really working out with the way we'd hoped," said Melissa Lanz, who runs the farm.
Devoted to restoring the health and trust of abused and abandoned llamas and alpacas, Lanz also runs the farm on the side with several sheep, milking goats and some new chicks have made an arrival this year. One of their new additions is Wonder, a three-month-old blind female goat, who was eating tall grass along the edges of the driveway during my visit.
"Some of the sheep are raised for wool and others for meat. We aren't licenced to sell the goat milk but use it in-house. We raise our bottle feds on it, like Wonder. She came from another farm, who couldn't commit to her care and I thought, I have five other bottle feds, what's one more."
"It's also nice, if we have a llama in distress, we can use the goat milk's as there is no formula for llamas. That's the main reason I got into the dairy goats."
Lanz says "alpacas are fuzzy and cute and good as companions, but llamas can be used for packing, carting and so much more."
The wool from both llamas and alpacas is also a commercial viability.
"The llama wool would be used for your everyday wear and the alpaca wool for your fine baby, royal stuff," explained Lanz.
There is only one alpaca on the ranch and twenty llamas, which is their maximum capacity. They are currently looking for foster farms for some of the llamas. It's really important to know that llamas need care, they can't be put out to pasture and forgotten about.
"You have to bring them in once a year for their toes, to get shorn and check their teeth. That was a big thing in the 90's is to forget about them and now there is more awareness and people getting them for the right reasons," she said
The ranch was open on the weekend as part of the annual Alberta Open Farms Days, one of only two places in the Medicine Hat region taking part. Open Farm Days is a province wide event, allowing the public to visit participating farms in order to understand where their food comes from.
Lanz feels the Open Farm Days are a wonderful way of connecting to people.
"It's one way of going out there and saying if you want to learn about llamas, come here. We are available, you can come here and interact with our animals," she said.
"This is our first year for allowing people to come in and we are using it as our grand opening for having visitors.
"It's also another way to let people know we have a store set up selling socks, scarves, yarn and stuffies."
Everything in the store is either handmade, like the mock stained glass, on the farm or produced using wool from the farm. Lanz ships the wool out to a mill in Calgary, who spins it into wool and makes the socks, gloves and scarves.
"It can take nine months to get a shipment of socks back from the mill, but by that time I'm not getting a few pairs, I'm getting about 100 pairs."
Lanz doesn't take a wage from the farm, all money made from the sheep goes back into the rescue side. It's a little tight this year and although they are working towards getting a charitable or non-profit status, haven't been able to achieve it yet.
The ranch is open for tours – school groups, families or even individuals – who want to come out and learn about llamas or farm life. Melissa Lanz can be contacted at 403-952-6333 or bwrr.mel@gmail.com. They are also on Facebook and their website is at bitterwaterrescueranch.net.