Smart and Caring Grants available
Posted on September 3, 2019 by 40 Mile Commentator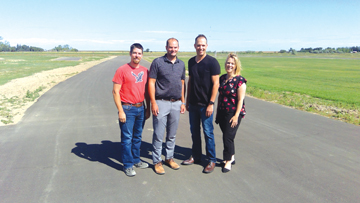 Photo submitted From left to right: George Mills Bow Island Running Track committee, Senator Gershaw School principal Scott Angle, Clint Thacker- Chair of the Rural Community Fund of Forty Mile and Michelle MacLean-Community Fund coordinator.
By Samantha Johnson
Commentator/Courier
The Community Foundation of Southeastern Alberta accepts applications twice a year, in the spring and fall, for their Smart and Caring Grants and are open to organizations that have registered charitable status with CRA. This is not a limitation of the grant though, as someone with a great idea can link up with an organization to help bring their idea to fruition.
The upcoming deadline for the fall submission is September 16 and the Foundation requests that, prior to submission of their application, the applicant prepare a one-page summary of the project proposal. The summary will complete Phase 1 of the requirements and, if they receive approval to apply, allows them to move forward with the complete application. Grants are awarded based on potential impact of the project and fund availability.
Any value up to the maximum of $25,000 can be applied for through the Smart and Caring Grants. "There are a number of different recipients of these grants, and we hope to see many applications from the County of Forty Mile this fall," said Michelle Maclean, Community Fund Coordinator.
"The Community Foundation of Southeastern Alberta is all about growing, giving and inspiring within our community. The giving comes from our overall fund." The fund started out with an initial donation of $25,000 from John Ignatius, a local rancher from Cypress County, who also later contributed $2.4 million.
"Twenty-seven years and many donations later, the fund is now worth $13 million, and the investment income generated from the fund is the money granted each year. Approximately $400,000 annually is granted into the Southeastern Alberta community through the Foundation and the Smart and Caring Grants are only half of the grants available, with the remainder designated to groups or organizations specified by donors," said Maclean.
One project that received funding in spring of this year was Bow Island Community Running Track. The track is located beside Senator Gershaw School and, according to Scott Angle, Principal, is being well used already and had 25 people on it one day last week.
A new project that officially launched on June 3rd this year is the Rural Community Fund of 40 Mile, which enables people to give where they live. It is one way of establishing a model of sustainability that all non-profit and charitable groups can access and be supported by for many years to come.
The 40 Mile Fund started as an initiative of the board of the Community Foundation of SE Alberta to ensure a positive impact across the entire region. Maclean explained, "they saw this as a way of doing that. The goal of our committee is to raise our first $10,000, once that is met the Community Foundation will match it with another $10,000 and that will immediately go into our own endowment fund. They are also going to provide an additional $10,000 to grant out into the community. It's pretty exciting."
Michelle Maclean can be contacted at 403-866-8901 or 40milefund@cfsea.ca. The Smart and Caring Grant website page is at the following link: https://cfsea.ca/we-give/smart-caring-grants/.
The main office for The Community Foundation of Southeastern Alberta is located at 104, 430 – 6th Avenue SE, Medicine Hat, AB T1A 2S8. Phone: 403-527-9038; email: admin@cfsea.ca and website at http://www.cfsea.ca.