Riverview Golf Club saw positive steps in 2019
Posted on September 17, 2019 by 40 Mile Commentator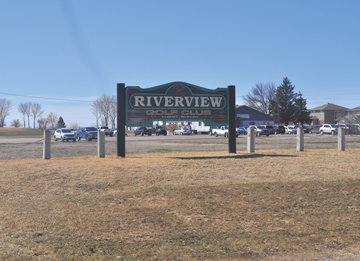 Commentator/Courier File Photo.
MO CRANKER
Alberta Newspaper Group
After a rough go at things for the past few years, the Riverview Golf Club is hoping 2019 was a year of stabilization.
Various outlets reported last year that the club was swimming in debt and looking for ways out. The club held multiple town meetings looking for help from the town, as well as the community to get out of its financial hole.
With new staff and a plan in place, general manager Doug Braithwaite says 2019 was a good year for the course.
"I think it was fantastic — we had a really good year out here," he said. "Considering what we've come from and the resources that we've had at our disposal — I think we've done really, really well.
"It's been a good year."
Braithwaite added he has not yet seen financials for the year, but said he thinks the course "is in a much better spot moving forward."
Braithwaite was an assistant pro from 2008-11 and served as general manager for the first year in 2019 — he says the club sits around 225 memberships.
"Of course we always want that number higher, but we're happy with that as a really good starting point," he said. "The members have been so supportive of us through all of this and we thank each and every one of them."
Off the course, the club restaurant was taken over by new management this year by Kelli and Dylan Ireland. Kelli says the couple was unsure about their new venture, but they have had a blast in their first year at the club.
"We had no idea what to expect and we knew this would be a bit of a risk on our part," she said. "We came in with a positive attitude and changed the menu completely — we heard the previous menu didn't ask for any feedback, so we talked to a ton of people before we decided on anything.
"Instead of making this about us, we wanted to make it about the members and I think that really paid off for us."
Kelli said the restaurant saw consistent business over the summer, especially during the lunch hours.
"We have a $10 special every day and we know people love that," she said. "We want people to know that they don't need to be a member to eat here — we want this to be a go-to place in the community."
The 18-hole, par-71 course is entering the home stretch for the year and Braithwaite says the club will "definitely" be open next year. Ireland added that the restaurant will close for the winter in the coming weeks and reopen next spring.