S. Alberta perfect setting for post-apocalyptic film
Posted on September 24, 2019 by 40 Mile Commentator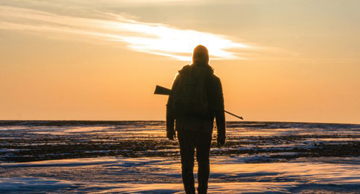 Upcoming post-apocalyptic science fiction film "Father of Nations" has been filming in southern Alberta for the past couple of years with a full Albertan cast and crew.
Jeremy Appel
Alberta Newspaper Group
Filming for an apocalyptic science fiction movie — described in a press release as "'Book of Eli' meets 'Mad Max: Fury Road'" — that has been underway in southern Alberta for the past couple years is entering full production.
"Father of Nations" is shooting in Hilda and Brooks, as well as Calgary and the badlands, with an entirely Albertan cast and crew.
Writer and starring actor Nathan Horch told the News the film follows the last handful of survivors on earth as they deal with questions about the purpose, meaning and sanctity of life, and deal with grief as they reflect upon the loved ones they lost in the apocalypse.
"It's a deep, darker exploration as they're wandering through a dead world in this wasteland and throughout it there's flashbacks to parts of their journey that punctuate what they've all been through and (follows) them as they're facing extinction," he said.
But the tone of the film isn't completely bleak, says director Aleisha Anderson.
"Really it's a film about hope and where do you find hope in the face of a hopeless situation," she explained.
Anderson says the post-apocalyptic genre is seeing a resurgence due to popular anxieties.
"Because of some of the world events that are happening, people's minds are going to the 'what if' and 'where are we heading'," she said.
"Because it's an unknown, it's that projection of that 'what if' allows you to go out there and explore."
The downfall of society integral to this narrative allows filmmakers to ask deeper questions about "the core essence of our being and what drives us to continue to fight to live, to survive, to move forward," said Anderson.
Horch says he initially wrote a post-apocalyptic narrative because it required few actors and was an ideal story to be set in the barren badlands.
"When I was thinking of scenarios that could be done, that one really popped out at me when I was thinking about what would it be like to be there when you haven't seen any other people," he said.
"But then, as it's grown, I think we just kept going deeper and deeper, because it's taken years to get off the ground and a lot of that has been script development, which really enriched the exploration of what we can do."
They began shooting on Horch's cousin's farm in Hilda when the wildfires broke out in fall 2017.
"All the crop land was burned and it was a really devastating experience for the community, but they really supported us and embraced us in what we were doing because we were trying to do something in the face of loss, finding hope and bringing something beautiful out of it," said Horch.
Anderson says the amount of different landscapes available in southern Alberta — from mountains to coulees to badlands to sand dunes and salt flats — makes it suitable for filmmaking.
"There's all these pockets of very diverse landscapes that's naturally occurring that allows us to take this film and create this epic journey film through all of these different places," she said. "It looks like we've been around the world shooting, but it's really in southern Alberta's backyard."
The film hits theatres for a limited theatrical release, including the Hat's own Monarch, at a future unspecified date.