Bow Island RCMP investigating early morning railway track collision
Posted on September 27, 2019 by 40 Mile Commentator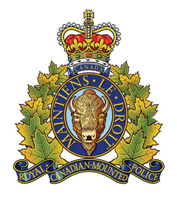 Commentator/Courier
Bow Island RCMP have launched an investigation after a stolen red Dodge Ram 2500 was left on the railway tracksnear the Highway 3 and Highway 879 intersection early Friday morning.
It was on Sept.27 at 5:10 a.m. that the Dodge pick up was left on the tracks, causing a collision. However there was no one hurt in the accident.
Police believe the suspects responsible were  operating a separate vehicle in which they fled the scene with.
Bow Island RCMP are looking for the public's assistance in locating the person(s) responsible for this crime. If you have any information regarding the individual(s) responsible, or have any information you would like to contribute, please contact the Bow Island RCMP at (403) 545-2784 or contact Crime stoppers at 1-888-222-TIPS (8477).