St. Mike's gathers at flag pole for annual prayer
Posted on October 2, 2019 by 40 Mile Commentator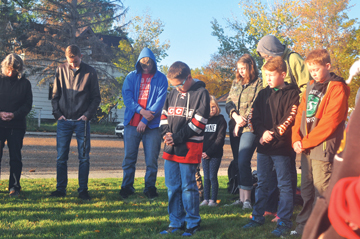 Staff and students at St. Michael's School gathered at their annual 'See You at the Pole,' at the school's flag pole on Sept. 25.
By Justin Seward
Commentator/Courier
St. Michael's School staff and students gathered on a crisp autumn morning to participate in their annual "See You at the Flag Pole" event on Sept. 25.
The initiative began with a group of teenagers in a Texas town where they got together for a weekend retreat back in 1990.
"They felt that their communities, schools, state and country were kind of in a mess and needed some guidance from God. That's where it first started," said Taria Gouw, event organizer.
"We've been doing here at St. Mike's for 16 years."
School members stood in a circle around the flag pole for approximately 20 minutes to say prayers about current issues about local issues or on the worldwide spectrum.
"I think it unifies us in faith," she said.
"It gives us faith for the year. It's a one day event. Every day we should be focusing on God. St. Mike's is just such an awesome environment and school to allow us to be able to do this.
"Today was little touching with that boy praying and praying his heart out. I was like 'My gosh, this why we do this.'"
She says the event should be student-led event, but there was not a student leader who felt confident to be the head of the gathering.
This isGouw's last year of leading the event and hopes a student will step up next year.